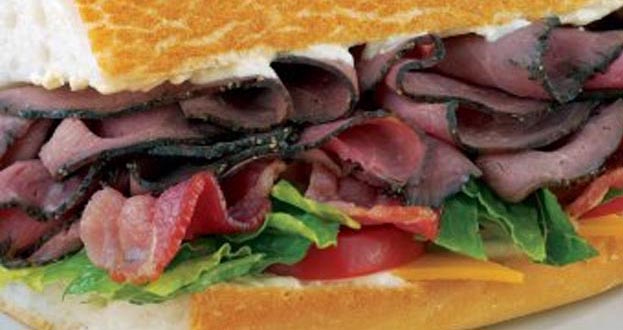 An Arizona restaurant that has proudly hocked its "unhealthy" menu of 8,000-calorie burgers, fries cooked in pure lard and milkshakes made with butterfat, is accusing New York City's famed 2nd Ave Deli of ripping off its name and concept.
The Heart Attack Grill, a hospital-themed restaurant that offers the Quadruple Bypass Burger, Flatliner Fries and candy cigarettes for children, sent a cease-and-desist letter to 2nd Ave Deli in March, demanding the deli pull the Instant Heart Attack Sandwich off its menu and ads.
The Arizona-based restaurant has caught flak from health advocates for its blatantly fatty offerings, but the concept is apparently an asset: when it caught wind of 2nd Ave Deli's applications to trademark its Instant Heart Attack Sandwich and another in-the-works Triple Bypass Sandwich, Heart Attack Grill sent the letter to the deli.
The Instant Heart Attack Sandwich at the 2nd Ave Deli consists of two latkes served with a choice of corned beef, pastrami, turkey or salami piled high.
"Consumers will believe that your use of 'Triple Bypass Sandwich' and 'Instant Heart Attack' are associated with or sponsored by Heart Attack Grill," the restaurant's attorneys said in the letter. "Further, we believe that you copied Heart Attack Grill's family of medically themed food items, including its 'bypass' trademarks."

In response Tuesday, 2nd Ave Deli filed a declaratory judgment against Heart Attack Grill in Manhattan federal court.
A spokesman told NBC New York that the sandwich name has been used since at least 2004, pointing out that the deli is kosher and would not serve beef burgers and milkshakes.
"There is no way that the 'Instant Heart Attack Sandwich' could possibly be confused with the 'Triple Bypass Burger,' or the 2nd Ave Deli could be viewed as a 'medically-themed' restaurant," deli owner Jeremy Lebewohl -- nephew of 2nd Avenue Deli founder Abe Lebewohl -- said in a separate statement.
Lebewohl said the deli had been serving the Instant Heart Attack sandwich before the Heart Attack Grill had existed. The Heart Attack Grill has been open since 2005.
In addition to demanding 2nd Ave Deli stop using the sandwich names, attorneys for Heart Attack Grill demanded that 2nd Ave Deli say how long it "has been open for business and been using the 'Instant Heart Attack Sandwich' and 'Triple Bypass Sandwich,'" and disclose the total sales and profits resulting from its sales of those sandwiches.
Heart Attack Grill owner Jon Basso told NBC New York in an email that the deli's response is an attempt at "garnering media attention for what is otherwise an unremarkable deli."
The 2nd Ave Deli has been a New York City landmark since the 1950s, and is famous for its celebrity clientele and even more impressive sandwiches.