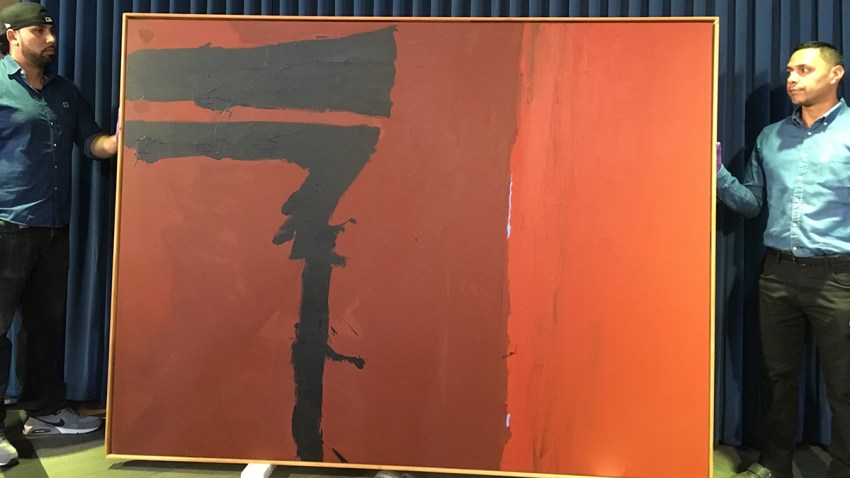 What to Know
A stolen painting that has been missing for 40 years was recovered and returned, authorities announced Thursday
The painting, Untitled, was created in 1967 by 20th century American abstract expressionist Robert Motherwell and went missing in the 1970s
A now-deceased man who worked for a moving company allegedly stole the painting, which is valued at about $1 million, from storage
A stolen painting that has been missing for 40 years was recovered and returned, authorities announced Thursday.
The painting, Untitled, was created in 1967 by 20th century American abstract expressionist Robert Motherwell and went missing in the 1970s.
Experts value the painting at about $1 million.
[NATL] Top News Photos: Pope Visits Japan, and More
Motherwell, who was not only a painter, but a printmaker and editor, was the youngest of a group of visual artists – including Willem de Kooning, Jackson Pollock, and Mark Rothko – known collectively as the "New York School."
According to the Manhattan U.S. Attorney's Office, throughout the 1960s and 1970s, Motherwell exclusively employed the Santini Moving Company to transport and store his artwork.
However, around 1978, Motherwell changed storage companies and in the process of preparing and itemizing his artwork for the move, dozens of paintings, including Untitled, were identified as missing or stolen.
When Motherwell passed away in 1991, almost all of his paintings were deeded to the Dedalus Foundation. In 2017, the son of a former and now deceased Santini worker contacted the Dedalus Foundation regarding the authenticity of Untitled, which had been in his father's possession for the past 30 years and didn't know was stolen.
The Dedalus Foundation subsequently contacted the FBI. The son of the man voluntarily relinquished the master piece to the FBI's Art Crime Team when approached by the agency.
The FBI suspects the same man from the Santini Moving Company that had Untitled could have been involved with the other missing paintings. Authorities do not believe the son is involved.
Top Tri-State News Photos
"Robert Motherwell was an influential and iconic artist of his time. His love of the abstract inspired him to create works enjoyed by many still today. Unfortunately, several of his paintings went missing about four decades ago – the 1967 Untitled piece is but one of them. Motherwell never titled this work of art before it vanished. Maybe, after all, that's part of its story – one that begins a new chapter here today, FBI Assistant Director-in-Charge William F. Sweeny Jr. said in a statement.
"Thankfully, 40 years after Robert Motherwell began painting this piece, this work of art is where it should be: with the Dedalus Foundation and for the benefit of the public," U.S. Attorney Geoffrey Berman said in a statement.
The painting has been returned to its rightful owners.
In a statement to NBC 4, the Dedalus Foundation said it was pleased to have recovered the painting of "the great American artist" and thanked the U.S. Attorney's Office and the FBI.
Additionally the foundation also stressed that the recovered painting is just one of a group of works that have been stolen and missing since the 1970s.
"We hope that its recovery will lead to more of those paintings being found and returned to us," the Dedalus Foundation said.