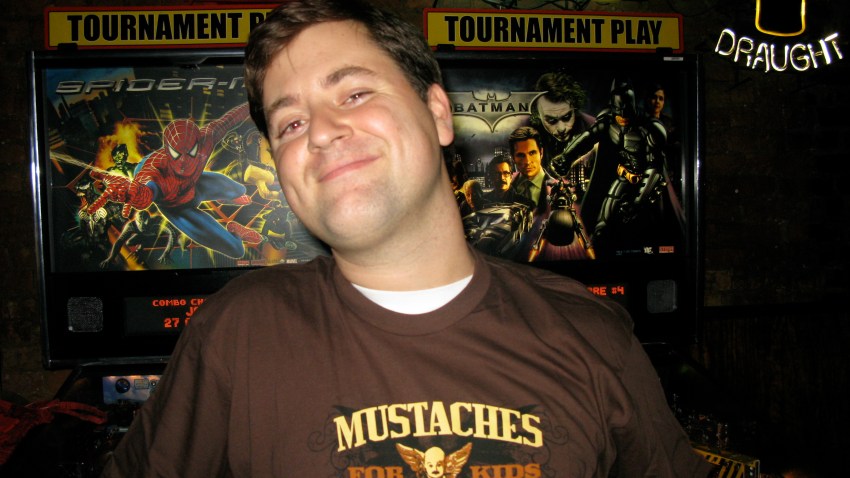 Last night I went to Ace Bar in the Lower East Side to see the kick-off party for Mustaches for Kids - a non-profit mustache-growing competition that benefits local schools. Last night's gathering was "Shaving Day", a fresh start of sorts for all participants' upper lips to be cleared of their hairy pasts. The group's main organizers had an impressive drive set up to get new sign-ups at three computers, supported by last year's t-shirts, a baggie full of buttons, temporary tattoos and a welcome manual for new mustache members.
The way the group works is this: participants are called "Growers", and like marathon runners, they must go out and solicit friends, family, co-workers and neighbors to sponsor their 'stash. The money they raise then goes to a charity they've chosen, listed by public teachers at DonorsChoose.org. Most Growers pick a local school and with their money raised, help fulfill the requests of local teachers - be it learning games, art supplies, or an important field trip to a local museum.
To appreciate all that one can do by simply not shaving is rather inspiring ... so inspiring in fact that I woke up this morning as a newly minted member in Mustaches for Kids. That's right, over the next four weeks I'll be checking in on my fellow 'stashes and harassing everyone I know to raise money through my personal fundraising site. I have yet to pick an exact charity, but I plan to find a few Brooklyn teachers who need some supplies, and work hard to help them get what they need. The best part is, that "work" is just letting my electronic razor die, and watch my man-lip grow to fruition.
Mustaches for Kids has been around since 1999 when it got its start in Los Angeles, and has since seen its Growers raise over a half a million dollars for children's charities. Like all good things, Growing season comes but once a year. For more, visit Mustaches for Kids and DonorsChoose.org. To see all the New York Growers and their charities, visit the New York Chapter of Donors Choose. I'll try and keep you posted, but if you don't hear anymore, check out my personal site where I'll keep a close tab on my Mustache for Kids. Being lazy never felt so good!
Copyright FREEL - NBC Local Media