The spike in gun violence in New York City continued unabated this weekend, with at least 43 people shot in a 48-hour time period, according to preliminary figures from the NYPD.
Over the course of the last three days, the New York City Police Department recorded 51 shooting victims by the end of Sunday -- that tally started 12:01 a.m. Friday. In the same three days, Aug. 14-16, the NYPD recorded just eight victims from gun violence in 2019.
NYPD data shows 20 people were injured between 12 shooting incidents Friday and another 23 were wounded Saturday from 20 separate shootings. By the first minutes of Sunday, at least 43 people had been shot and two people had died.
Saturday closed the door on a particularly bloody week across the five boroughs. The NYPD says 69 people were victims of gun violence last week, which includes the 43 people shot Friday and Saturday. From last week's shootings, 12 people were killed, the department said -- that's up from 10 murders during the same time period last year.
In the last four weeks, shooting incidents in the city are up nearly triple versus the same period last year, continuing a pattern seen since early June, as the city's coronavirus lockdown began to ease and the NYPD shifted its anti-crime tactics.
Between Jan. 1 and Aug. 16, NYPD data shows at least 1,095 people in New York City have been victims of gun violence this year; that's up from 581 in the same time period in 2019.
One of this weekend's deadly shootings happened Saturday just before 1 am. on West 128th Street in Harlem, where a 30-year-old man died of a gunshot to the torso. A second happened roughly two hours later on Ridgedale Street in Queens, where a 28-year-old off-duty correction officer was shot in the head and died.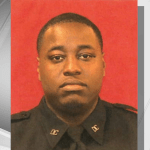 Saturday evening, just after 8 p.m., police in the Bronx were called for the shooting of a 27-year-old man on Beach Avenue. The victim, shot in the torso, was driven to Jacobi Hospital where he was later pronounced dead.
Officers responded to a fourth fatal shooting near Prospect Park in Brooklyn around 2 a.m. Sunday. A 47-year-old man died was shot twice in the head near Parkside Avenue, according to the NYPD. A few hours later, police say a 29-year-old man was shot in the hips near 93rd Street and Amsterdam Avenue in Harlem.
In a separate incident late Friday night, a man fired indiscriminately into a crowd at a seafood boil party at 112th Street and Lenox Avenue in Harlem, striking two women and a man. All three are expected to survive.
Both Mayor Bill de Blasio and NYPD Commissioner Dermot Shea have blamed a wide variety of factors for the spike in shootings, including what they see as slowdowns in the court system, as well as gang activity and pent-up rage after months in a pandemic lockdown.
Opponents, though, point to the decision to shut down the NYPD's plainclothes anti-crime unit in mid-June, a move taken as part of a broader package of policing reforms.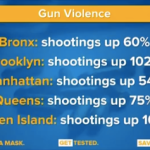 Gov. Cuomo says in New York City gun violence, "over 90% of the victims are Black and Brown. You want to talk about social justice, you want to talk about civil rights, you want to talk about social equity -- how do you explain that? It's not just New York City... it's also upstate New York."
In cities like Albany, Rochester, Buffalo and Syracuse, the governor says shootings injuries are up 70% year-to-date. Unless changes are made at the local level, Cuomo said, the uptick in violence cannot be addressed statewide.
Cuomo intends to send a letter to New York's 500 jurisdictions to continue police and community safety reforms. Cuomo said his letter explains "that it is imperative that we address this urgent crisis. I understand it's complicated, I understand it's difficult. I also understand people are dying."
The governor's letter follows his June 12 executive order requiring local governments and agencies to "develop a plan that reinvents and modernizes police strategies." Communities must create and implement a plan by April 1, the governor said, or they will not be eligible for state funding.
The plans must address force by police officers, crowd management, community policing, implicit bias awareness training, de-escalation training and practices, restorative justice practices, and community-based outreach.
Copyright NBC New York