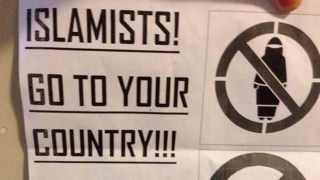 The NYPD Hate Crime Task Force is investigating anti-Muslim fliers that were posted in Bensonhurst over the weekend.
Police from the 62nd Precinct received a call Saturday morning from a 65-year-old woman who said a flier that read "Islamists go to your country!!! USA Hates you!!!" was posted on the front of her apartment building on 21st Drive.
Police canvassed the area and found 10 more identical fliers with anti-Muslim language and images.
Anyone with information about the fliers is asked to call police.
Published at 3:12 PM EDT on Jul 30, 2014 | Updated at 3:25 PM EDT on Jul 30, 2014