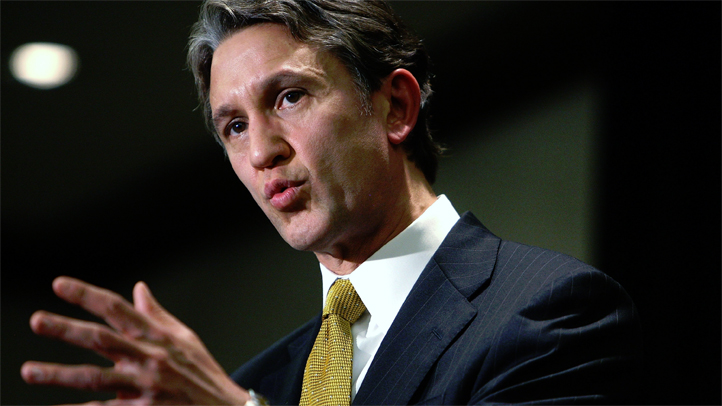 Once again, a New York Republican blew it.
While the national debate rages about whether Tuesday's special election in the 26th Congressional District was a referendum on Medicare, recriminations are flying in the Empire State, directed at a state GOP that can't seem to get its act together.
After fumbling three consecutive House special elections in GOP-friendly locales — and failing to capitalize on myriad Democratic scandals in Albany — the party's Keystone Kops act is wearing thin.
"We have a state committee that is not functioning, that's got no vision," former Rep. Rick Lazio, who lost the 2010 Republican gubernatorial primary, told POLITICO on Wednesday. "There's no registration drive under way. There's no accountability."
The party, Lazio and others say, is insular, indecisive and passive, unable to corral the wild energies of the tea party and failing to exert control over county GOP chairmen who tend to run their political machines as independent fiefdoms.
The executive director of the state party, Tom Basile, wasn't even involved in Tuesday's special election. Multiple sources said he was on vacation, though the state party chairman, Ed Cox, denied it. Basile could not be reached for comment.
"They're not funding these races, they're not introducing candidates to major funders, there's no absentee ballot effort," Lazio said. "The list goes on and on."
Squabbling, complaints of mismanagement, cronyism and incompetence: It's the same sad-sack routine that beset the party in two earlier turns on the big stage, the House special election losses in 2009 of Dede Scozzafava and Jim Tedisco. Both were state legislators whose losses to first-time candidates in Republican-leaning House districts were major embarrassments for the national GOP.
Those debacles were followed in 2010 by another, the candidacy of Republican gubernatorial nominee Carl Paladino, a loose cannon with no political experience who admitted fathering a child with a mistress and compared health care reform to the Sept. 11 attacks. In November, he won just 34 percent of the vote against Andrew Cuomo, now a popular governor whose rising star is positioning him for the national scene.
Paladino's landslide loss was especially remarkable in the wake of the opportunity created by Democratic stumbles — the ignominious resignation of former Gov. Eliot Spitzer, succeeded by a weak replacement, David Paterson, who did not run in 2010.
At the moment, the GOP holds no statewide office in New York. Still, things have been worse: Since their all-time low point, after the 2008 elections, New York Republicans rode a GOP wave in 2010 to increase their share of the 29-member congressional delegation from two to seven and won back the state Senate.

They had lost the chamber, it should be noted, after the party's longtime Senate majority leader and de facto Republican party head, Joseph Bruno, resigned amid a federal corruption investigation.
No one denies that New York is a blue state. There are twice as many registered Democrats as Republicans, constituting fully half the electorate. But the archetypal suburbs of Long Island and the rural expanses upstate were once fertile breeding grounds for the GOP — from presidential nominees like Thomas Dewey to old-style machine Republicans like Al D'Amato to the genteel Republicanism of three-term Gov. George Pataki.

As recently as 1996, there was a New York Republican, the late Rep. Jack Kemp, on the national ticket. These days, despite the recent, far-fetched floating of Long Island Rep. Peter King as a 2012 presidential prospect, that looks extremely unlikely.

"They basically don't know what they're doing," said veteran GOP operative Ed Lurie, a former state party executive director who is running for state chairman. "We were not building the farm team that's necessary. We're not going to the grass-roots organization that is necessary."

A stronger party, Lurie contended, would be able to bring the tea party into the fold, neutralizing outside challenges from the likes of Jack Davis, who ran Tuesday on the newly created Tea Party ballot line, or Doug Hoffman, who ran on the Conservative ticket in 2009 and split the vote from the moderate Scozzafava.

Corwin never should have been the GOP nominee, said Michael Caputo, the operative who managed Paladino's campaign and backed a more tea-party-aligned candidate, Dave Bellavia, for the 26th District GOP nod. Davis has said he would not have run if Bellavia had been in the race.

"The selection process is what lost this. Everything about this grew out of a selection process that was corrupt," Caputo said. "One of the most important jobs of a Republican organization is to raise money. Their job is to raise money, to run candidates, and in the era of Ed Cox, they have been punting on first down."

Caputo and other critics said Cox, the late President Richard Nixon's son-in-law, has failed to whip the party into shape as he promised when he was elected chairman in September 2009 after a bitter intraparty split.

Charging that the party had atrophied under Chairman Joe Mondello (who also presided over the demise of the once-mighty Nassau County GOP machine), Cox promised to revive the depleted party apparatus and vowed to use an array of fundraising contacts to do it. Yet the party never even cracked the mid-six figures in the 2010 cycle, fundraising records show.
Cox, who had chaired John McCain's New York campaign, also infuriated much of the party last year by coming up with multiple entrants for various offices, guaranteeing primaries, as well as working to find an alternative to Lazio. He took heat when his son, Chris Cox, moved to Long Island's Suffolk County to run for a competitive seat, and he maintained — despite anecdotal evidence to the contrary — that he wasn't involved in his son's effort.

Ed Cox defended the party Wednesday, saying that Basile, the executive director, wasn't involved in Tuesday's election because it was "a special project."

"There was no state party when I came in," Cox said. "It just wasn't there. … From my point of view, what we did in the two general elections I was involved in was bring the party back to where it should be."

Because the party had sunk so low, he said, it will take time to rebuild.

"We're working against a lot of headwinds," he said. "It's a gradual rebuilding, block by block. But step by step, we're proving the value of the party."

The sentiment that Cox was to blame for Tuesday's loss is not universal in the state.

"I'm not going to pick on Ed Cox. He didn't cause this problem," said Mike Long, the longtime chairman of the state Conservative Party. New York's "fusion" ballot system, which allows candidates to run simultaneously on major and minor party lines, gives third parties such as the Conservatives outsize influence in general elections.

"Anybody who's throwing gasoline on the fire that this is Ed Cox's fault, they ought to spend some time in politics," Long added. But he said the state GOP needs to stop appealing to the center and adopt a more sharply conservative message.

Former Rep. Bill Paxon, who was heavily involved in Tuesday's race for the seat he once held, helped recruit Corwin and secure the support of the Conservative and Independent parties, which he thought would be sufficient to clear the field for her.

Though he blamed Davis for Corwin's loss, he acknowledged that the state GOP has been "a weak party for a long time." Not since Nelson Rockefeller died in 1979, he said, has the party had consistent leadership. In the resulting power vacuum, county chairmen amass power through local governments and often don't contribute to up-ballot efforts.

Lazio also pointed to the influence of the county chairmen, saying they "are too willing to tolerate political failure as long as they get their few political crumbs."

He said Sen. Kirsten Gillibrand has essentially gone unchallenged since she was appointed in 2009 to replace Hillary Clinton. She easily won election in 2010 but must run again in 2012.

"There's not even any rumors going around that I know of about who's going to challenge Gillibrand next year," Lazio said. "And probably, based on past practice, we'll be having the same discussion this time next year. And to me, that's just incompetent."
Copyright POLIT - Politico