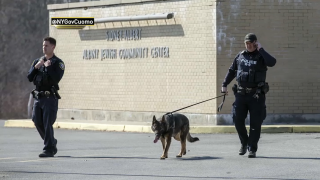 What to Know
A series of bomb threats were made to Jewish community centers across the country, officials said
The threats were emailed to more than a dozen JCC's, Gov. Cuomo said
As a precaution, more than 100 people were evacuated from the JCC in Albany Sunday morning
A series of anonymous bomb threats were made against Jewish community centers in New York, Governor Cuomo said Sunday.
The threats were emailed to members belonging to at least 19 JCCs, officials said.
Cuomo said the threats are part of a wider series made against JCCs nationwide. It was not immediately clear how many threats were made to JCCs within New York.
Local police departments, as well as the FBI and Homeland Security, were all contacted.
As a precaution, more than 100 people were escorted from the JCC in Albany Sunday morning. City and state police swept the building and grounds before determining the scene to be safe, Cuomo said.
"We've had about 42 incidents of anti-Semitism in this state this past couple of months so it's not getting better. It's only getting worse," Cuomo said at a press conference outside the Albany JCC on Sunday.
JCC MetroWest in West Orange, New Jersey, confirmed the bomb threats and issued a message to its members late Sunday.
"The F.B.I., Homeland Security and West Orange Police Department were all contacted. Our local police force carefully swept our entire JCC and all agencies involved deemed the message we received today not to be a credible threat," the message read in part.
The investigation into the threats is ongoing.
The Jewish organization has faced similar threats in the past. In 2017, at least 10 JCCs across the country were evacuated after a wave of bomb threats.
In a statement, CEO of JCC Association of North America Doron Krakow said, "Having faced similar threats in 2017, our JCCs have protocols in place to respond to such scenarios."
"At this time, it is the assessment of our security partners that there is no known credible threat related to the emails."
Copyright NBC New York