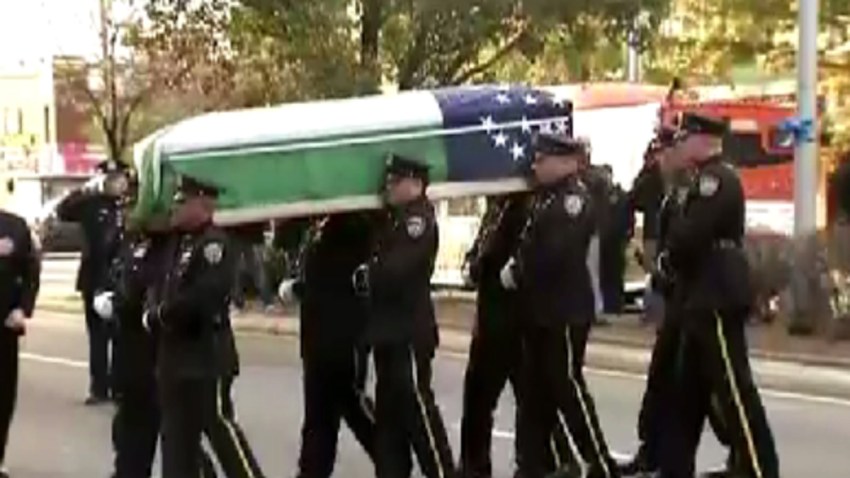 The man accused of fatally shooting a 33-year-old NYPD officer in the head as he responded to reports of gunfire in East Harlem a week ago has been indicted.
The grand jury charges against Tyrone Howard, 30, were to remain sealed until the suspect's next court appearance in November, authorities said Tuesday.

Initially, he was arrested on charges of murder and robbery in the slaying of officer Randolph Holder, who was shot in the head Oct. 20 near FDR Drive as his partner stood beside him.

Howard, who has an extensive criminal record and had three open warrants at the time of the arrest, did not appear at a court hearing Tuesday. His attorney has said that there are many missing details in the case.
Howard was taken into custody shortly after he allegedly shot Holder, who along with his partner responded after a crowd dispersed following a gunfight near 102nd Street. Holder and his partner encountered a man who said his bicycle had been stolen at gunpoint, allegedly by Howard.
As they were investigating, Howard allegedly approached the officers, got off of his stolen bicycle and shot Holder, a five-year veteran with the force, in the front of the head before tossing the weapon into the East River and running off. A weapon recovered from the river Sunday is confirmed to have been the one used to kill Holder, authorities said earlier this week.
After Howard's arrest, sources told NBC 4 New York he should have never been on the streets at the time of the shooting. He was a suspect in a shooting on Sept. 1 at the nearby East River Houses, was wanted in connection to an assault and was a "major drug player" in the area. Sources say Howard likely knew he was a wanted man.
The indictment comes the same day as a wake for Holder. Hundreds of mourning cops were among the thousands who paid their respects at a funeral home in East Harlem.
A funeral for Holder is scheduled for Wednesday, and he'll be buried in Guyana.