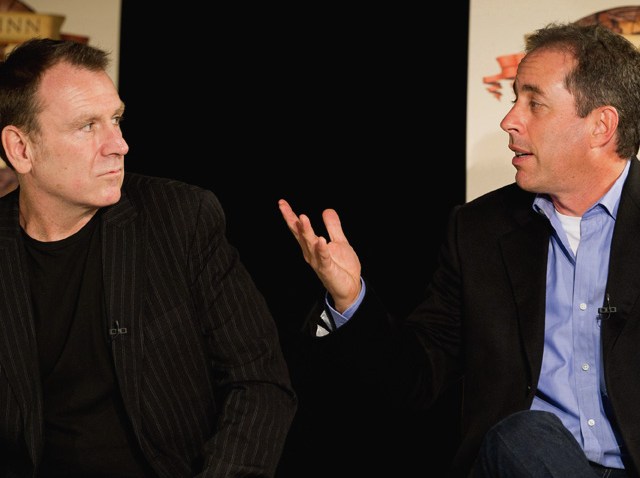 One word seems to best describe Jerry Seinfeld's role as a Broadway director: reluctant.
The TV and stand-up star said he began helping comedian Colin Quinn develop material for what would become Quinn's one-man stage show "Long Story Short" and then got roped into directing a work that traces global events from the caveman to the digital age in just 75 minutes.
"There is very little performance comedy that works on his intellectual level. He's one of these guys that can do it. It just needed a form," Seinfeld said during a press event Tuesday to publicize the show. "I kind of challenged him to come up with a form and he did. And then once he did, I was kind of stuck getting involved with it."
In the show, Quinn — the former host of MTV's late-1980s game show "Remote Control" and a "Saturday Night Live" cast member — takes audiences through the history of the world, highlighting why empires always seem to fail. "This show is about how human nature just steps in every time and ruins everything," he said.
The show debuted off-Broadway this summer to generally good reviews and now goes on Broadway at the Helen Hayes Theatre for an 11-week run starting Oct. 22.
Seinfeld and Quinn, who met decades ago while working comedy clubs, said collaborating on this project was easy since they both know stand-up and have complementary talents.
"I'm very smart about being funny and he's very funny about being smart," said Seinfeld. "He's really a smart guy that figured out how to be funny, and I'm smart about taking funny and figuring out how to pace it and organize it. So it was a good blend of skills."
Quinn has been testing slivers of the show's material for years, but found comedy clubs weren't the best venues for intellectual humor. "They'll stay with you for about 30 minutes. Then they're like, 'All right, c'mon. Will somebody talk about the lower half of the body, please? We get it: You're smart,'" he said.
The one-man show is constantly being tweaked to add or remove topical elements. "We don't want it to end. At some point, it'll end. But it's fun to keep playing with it. It's like a car — you keep tuning it," Seinfeld said.
Asked how he knew what was funny on stage, Seinfeld deadpanned:
"I had a sitcom in the '90s," he said.
Copyright AP - Associated Press