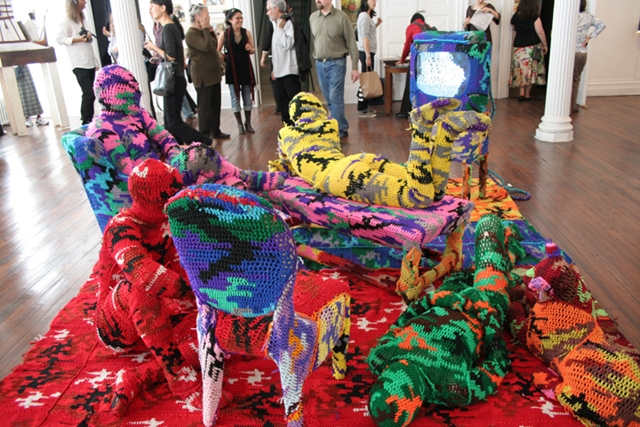 Last month, Jonathon Rose, a developer and the chairman of the MTA's sustainability commission, opened the doors of his latest project: an LEED-certified 12-story residential building in East Harlem that is as good for the community as it is for the environment.

Rose is a long-time advocate of affordable, environmentally-sound housing (which, in addition to recycled tiles and rainwater-harvesting rooftops also means creating communities that are close to public transit) and Tapestry, as he has named the building, is the first of its kind to inhabit this hood.

In recognition of this innovative approach to real estate, No Longer Empty, an organization that opens art exhibits in abandoned or otherwise temporarily vacant spaces throughout the city, is holding its latest installment in the lobby of the yet-unfinished building, the so-called Tapestry.

In keeping with the organization's mission of using the space it inhabits as a source of inspiration (the group held a music-industry inspired exhibit last fall in the former Tower Records) Weaving In & Out pays tribute to the way the building itself integrates into both the community and the natural world. At the opening party for the exhibit Tuesday night, a group of performance artists wearing crocheted body suits will make their way down 125th street to building's lobby. Other thematic artwork includes a large-scale drawing of the vast network of bridges that can be seen from the twelve-story building and an indoor garden acknowledges the building's "green" nature.

The opening reception is Tuesday, June 15, from 6 p.m. - 9 p.m., and the exhibit will be open (free to the public) until the end of August.
Copyright FREEL - NBC Local Media