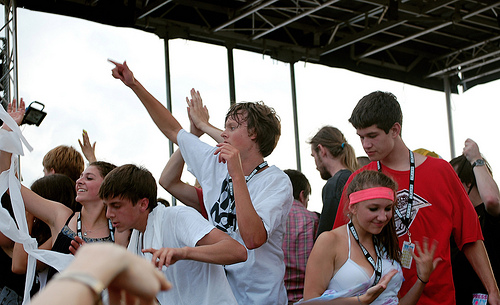 Williamsburg nearly imploded into itself on Sunday when Girl Talk, an internationally-renown remix artist named Greg Gillis (don't call him a DJ), played a free concert at the Williamsburg Waterfront Pool Party. Organizers packed as many scantily-clothed teenagers -- boys and girls -- into the gates' doors before locking them down, leaving hundreds of fans listening from outside. Here's your blog round-up, Girl Talk.

Chuck Schumer was there! Spotted by pretty much everyone because of his blatant "Meet Chuck Schumer" sign, the Senator hung out trying to get in touch with his hipster demographic. [ASSME]

There are hipsters, then some hipsters, and then a few more hipsters, and then some people wearing hipster clothes, and then a guy with a hurt elbow, and two dudes playing with floatie pool noodles, and then a whole bunch of people, and a sign in this photo gallery. [Guest of a Guest]

Stereogum writes of the "nice, quietly controlled time where everyone wore an appropriate amount of clothing." Ha! Stereogum you sneaky sneaks! [Stereogum]

MTV was there, and loved how involved the crowd got, noting they managed to both unplug some cords and break the stage, in two separate instances. Girl Talk yelled at them! But friendly-like, so all's good. No sad faces, just "sweat-drenched faces." [MTV]

Brooklyn Vegan has some great crowd shots that really show the enormity of the crowd. [Brooklyn Vegan]

Gothamist wins the award for most clever blog post title with, "Girl Talk's Williamsburg Pool Party: Nature vs. Over-Nurtured." [Gothamist]

The Village Voice has a slide-show that promises "More topless women than non-topless women." [Village Voice]

And the L Magazine concludes it was both wild, and sexy. [The L Magazine]

Good times! Up next Sunday is the last pool party of the summer with Grizzly Bear and Beach House.

Above photo via Zawesome on Flickr.

Copyright FREEL - NBC Local Media