An air conditioning leak at the World Trade Center sent water cascading down a stairwell from the 88th floor and halted two elevators in the building, briefly trapping a handful of people inside the elevators, officials say.
A spokesman for the Durst Organization, which operates the Port Authority-owned 1 World Trade Center, says a condenser line started leaking on the 88th floor.
The water got into the stairways, triggering the alarm system and stopping two elevators, according to Durst spokesman Jordan Barowitz.
FYI this is what it looked like IN THE ELEVATOR trapped between floors. Smoke was also everywhere from the water shorting out the lights. pic.twitter.com/YWEM80aGFG

— Alan Haburchak (@ahaburchak) September 26, 2017
The leaks in the stairway @ 85th floor One WTC pic.twitter.com/nvtVE7ebfW

— Shashank Singh (@shankybaba) September 26, 2017
There is water rushing in the elevators on the 82nd floor of the WTC. You can hear it. Some people are in the elevators. This is terrifying pic.twitter.com/AmttytC06k

— Emily C. Singer (@CahnEmily) September 26, 2017
Phil Pessutti, who works in the building, got stuck in one of the elevators on the high floors of the iconic 104-story skyscraper.
"All of a sudden, I saw water dripping out of the top of the elevator," he told News 4. "The lights started flashing and it eventually stopped dead."
"I don't know what the hell is going on. I was a little terrified," he said.
Port Authority spokesman Steve Coleman says three people were safely removed from the stuck elevators. They were taken to the hospital to be evaluated.
As firefighters and Port Authority police responded, but before the situation was fully under control, an announcement over the intercom made some office workers in the building nervous.
"They directed people to shelter in place," said Julius Byrd. "You don't know what to do. So when there's a mixed signal -- in this building, in the World Trade Center -- that's mean it's time for me to leave."
The leak has since been contained.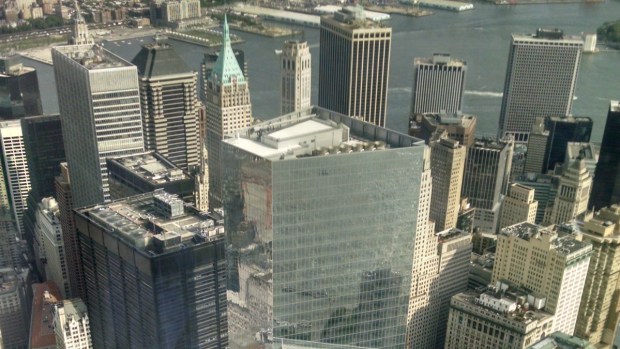 View From the Observation Deck at One World Trade