What to Know
The summer repairs are expected to close three of the station's 21 tracks at a time for approximately eight weeks, beginning in July

The work was ordered after two recent derailments and numerous other delays

The cutbacks took effect July 10 and last through Sept. 1
After Amtrak -- the owner and landlord of New York's Penn Station -- announced in April that it's fixing tracks and switches at the crumbling transit hub, many commuters were bracing for the worst.
The first day of eight-week long service changes for New Jersey Transit, LIRR and Amtrak passengers played out without any big issues. But with more than 50 days to go, heads of the region's major transit agencies are advising commuters to look for the roads less traveled into the city, and to not become complacent as the days wear on.
On Monday, MTA Chairman Joe Lhota and Amtrak CEO Wick Moorman agreed that the first day of the "summer of hell" went relatively smoothly on its first day, with no major hiccups to report. Moorman, who expects the Penn repairs to take eight weeks as planned (and no longer), said he was confident that advanced notice helped commuters plan accordingly.
Still, Lhota encouraged commuters to make use of alternatives, like the LIRR ferry between Glen Cove and Manhattan, which was underused on Monday. NJ Transit train alternatives like the NY Waterway ferry and extra buses were also underused.
"We want [commuters] to look at all the alternatives, and they may find it's a lot better," said Lhota during a press conference on Monday evening.
NJ Transit Riders Flood Path, NY Waterway
Overall Lessons From Day 1
Leave early if you want a seat on your train. 83 percent of responders to our informal survey said they usually get a seat, but only 73 percent got a seat Monday.
Parking was an issue for many who took the train on Long Island. LIRR stations like Bethpage didn't have a single parking space left in the morning.
Thousands of LIRR passengers avoided Penn Station by hopping on the subway to Atlantic Terminal, Hunter's Point or Jamaica. Subways at those stations could be busy during the "summer of hell."
Likewise, Hoboken Terminal was very busy on Monday as NJ Transit commuters gravitated towards PATH.
Alternatives like NY Waterway, NJ Transit buses and the ferry from Glen Cove to Manhattan were underutilized Monday, with some ferries well below capacity and some buses not even put to use.
Pack a "summer of hell" survival kit — including water, an on-the-go breakfast and anything else you may need for an extended commute. Also be sure to go to the bathroom before you head out the door.
NJ Transit - Lessons From Day 1
NY Waterway ferries are a good alternative for getting between Hoboken Terminal and West 39th Street in Manhattan. The ferries can hold 400 people, but at least one of them had less than half that on Monday.
Most commuters who used NY Waterway described it as on time and not congested, and recommended it as a great alternative. Some commuters described it as a bit convenient, but worth it once on board (the views beat being stuck waiting in Penn).
NY Waterway ferries are available every 15 minutes during rush hour; between 7 a.m. and 10 a.m. and between 4 p.m. and 8 p.m.
Many NJ Transit buses going into Manhattan also had room to spare on Monday. Consider them as an alternative to PATH.
There was a big increase in the number of riders on the Morris & Essex Lines Monday morning. Some 12,622 riders traveled into Hoboken, versus 3,950 on an average weekday. Consider avoiding Hoboken if possible.
NJ TRANSIT - Service Changes

You can find more on NJ Transit's service plan, which is in place weekdays from July 10 through September 1st, here.
Midtown Direct trains on the Morristown Line scheduled to arrive in PSNY after 7 a.m. will be diverted to Hoboken for the rest of the service day. Important Note: Customers traveling into New York on four early morning Midtown Direct trains will not have return service in the p.m.; they should travel to Hoboken to access westbound M&E trains.
The four Morris & Essex Lines Midtown Direct trains are:

6602, the 5:44 a.m. arrival at Penn Station New York
6604, the 6:29 a.m. arrival at Penn Station New York
6696, the 6:54 a.m. arrival at Penn Station New York (Please check schedule for station stops.)
6306, the 6:58 a.m. arrival at Penn Station New York. (Please check schedules for station stops.)

NJ Transit is adding buses to the Summit and Maplewood train station during the morning rush: beginning July 10, from 7 a.m. to 9 a.m., NJ Transit buses will operate every half hour from those stations to Port Authority. The service is being offered only in the morning to New York.
Midtown Direct trains on the Gladstone Branch will be diverted to/from Hoboken.
Midtown Direct trains on the Montclair-Boonton Line will operate on regular weekday schedules with minor time changes to/from PSNY. Montclair-Boonton Line Midtown Direct trains will not stop at Broad Street Station during peak hours. Note: All Montclair-Boonton Line customers should check the schedules as station stops may have changed.
All Northeast Corridor and North Jersey Coast Line trains to PSNY will operate on regular weekday schedules with minor time changes to/from PSNY.

Hoboken-bound North Jersey Coast Line trains will terminate at Newark Penn Station. Note: Customers can utilize rail service to Secaucus and transfer to Hoboken-bound trains. Hoboken tickets will be honored at Secaucus. See gate agent upon arrival.

Raritan Valley Line trains will operate on regular weekday schedules with minor adjustments.
Main/Bergen, Pascack Valley and Port Jervis Lines will operate on regular weekday schedules, however, connecting PATH trains at Hoboken Terminal may be different.
Atlantic City Line will operate on regular weekday schedules.
Riders on the Morris & Essex Line's Midtown Direct trains ending in Hoboken will have their fares honored on PATH trains and ferries on weekdays only. Cross-honoring will NOT be in effect from 2 a.m. Saturday through 6 a.m. Monday. Customers will need to show their rail tickets. Customers using single-ride paper tickets are strongly encouraged to purchase round-trip tickets, as they'll have to display an NJ Transit ticket at the West 39th Street ferry terminal and at the PATH stations. (There are no NJ Transit ticket vending machines at the ferry terminal or PATH stations.)
Morris & Essex Midtown Direct riders will get a discount of 56 to 63 percent during the work. Customers purchasing discounted M&E monthly or weekly passes to Hoboken will still be able to use those passes on the early morning weekday Midtown Direct train to Penn Station New York, on all weekend Midtown Direct trains to and from Penn Station New York, and on all regularly scheduled Midtown Direct trains to and from Penn Station from July 1 to 9, before the scheduled service changes. Beginning June 19, customers can begin purchasing their discounted monthly passes for July. M&E customers traveling to and from Penn Station on the weekends using single-ride tickets will need to purchase tickets with Penn Station as the final destination.
PATH - Lessons From Day 1
Many NJ Transit commuters have been taking to PATH. More than 9,000 NJ Transit riders were cross-honored Monday morning.
There are designated turnstiles for NJ Transit commuters being cross-honored at the 33rd Street and World Trade Center PATH stations. There are also more customer service agents available. However, some smaller PATH stations in New York (23rd Street and Christopher Street) are not allowing cross-honoring on return trips in the afternoon.
Use both PATH entrances at Hoboken (lots of complaints about overcrowding at Hoboken PATH, but NJT spokesman Charles Ingoglia said it was because passengers were primarily only using one of the two entrances).
PATH - Services for NJ Transit Commuters
Beginning July 10 through September, PATH will cross-honor NJ Transit customers at its Hoboken, 33rd Street and World Trade Center stations. Riders must show their rail tickets at those stations. where extra PATH personnel and Port Authority police will be on hand. PATH is not cross-honoring at Newark Penn Station, where NJ Transit is maintaining normal service. (NJ Transit has agreed to reimburse PATH for cross-honoring during this period.
PATH is reducing the time between trains on the Hoboken-33rd Street line from 7 minutes to 5 minutes, from 7 to 10 a.m. and from 4 p.m. to 8 p.m., in both directions during the week.
More than 7,000 additional NJ Transit riders are expected to use the PATH in Hoboken each weekday during the morning and evening rush during the project.
Keep up to date on the latest NJ Transit service changes at NJTransit.com/MyTix.
PATH Preps for Crush of NJ Transit Commuters
LIRR - Lessons From Day 1
MTA Chairman Joe Lhota said Monday he was surprised to see a surge in ridership from Long Island, yet a decrease at Penn Station, which indicated commuters were willing to go to Brooklyn and stations other than Penn.
The MTA reported a 67 percent increase in ridership at Atlantic Terminal and a 90 percent increase in ridership at Hunter's Point on Monday.
Ferries from Glen Cove to 34th Street and Wall Street weren't crowded on Monday. Ferries from Long Island City into Manhattan could also handle more passengers.

LIRR - Service Changes

New LIRR trains will be added during peak rush hours, enabling the MTA to accommodate 9,600 riders. Thirty-six cars will be added to scheduled rush hour trains to alleviate overcrowding.
Some rush hour service will be lessened, though. Eighty-seven LIRR trains leave Penn Station during each weekday evening rush; that will be reduced to 70 for the summer. Seven of those 17 trains will be canceled; three of them originate at Atlantic Terminal, three at Hunterspoint Avenue and four at Jamaica.
Three overnight trains that run between 2 a.m. and 4 a.m. will be canceled, but the MTA says those cancellations are only expected to affect about 90 riders.

The MTA plans to add ferries from Glen Cove and Long Island City to help inconvenienced LIRR commuters.
A new network of 200 park-and-ride buseswill be free to LIRR monthly and weekly ticketholders. The buses will operate from 6 to 10 a.m., departing every 7 to 16 minutes. Real-time traffic updates and parking availability will be available at 511ny.org.
Get to park-and-rides early. Really early. Consider alternatives to Valley Stream (125 spaces only, filled up by 8:30 a.m.) and Melville (200) if arriving later.

LIRR commuters will have their tickets honored on the subway at Hunters Point Avenue, Jamaica and Atlantic Terminal during the morning rush. Subway lines at those stations include the 7, E, J, Z, B, D, N, Q, R, 2, 3, 4, 5.
Gov. Cuomo says fares will be reduced for commuters on those LIRR lines affected by the work.
LIRR Commuters Trade Trains for Ferries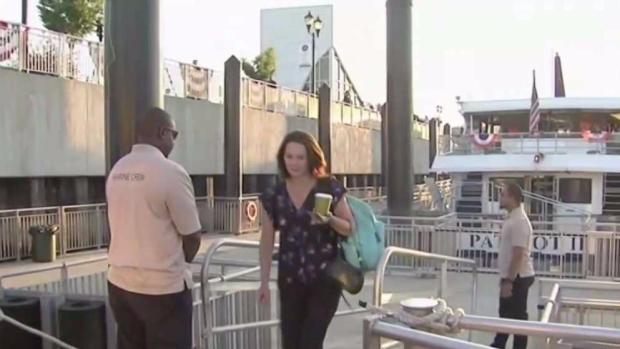 AMTRAK - Service Changes
The railroad's premium Acela service will be unchanged, as will all service between New York and Boston

Amtrak said there will be reductions in service between New York and Washington, D.C., on its Northeast Regional line and between New York and Harrisburg, Pennsylvania, on its Keystone service. The Crescent, which runs daily between New York and New Orleans, will instead run between Washington, D.C., and New Orleans

Amtrak didn't say how its Empire Service between Albany and New York City would be affected. Reports have said those trains could be diverted from Penn Station to Grand Central Terminal
NY Waterway Underused on 1st Day of 'Summer of Hell'