What to Know
The father jumped into the Wanaque River from a bridge on Interstate 287, police said.

The father died in the fall, but his children survived and were last listed in serious condition.

One lane of Interstate 287 was closed as emergency crews and police responded to the scene.
UPDATE: 2 Boys Expected to Make 'Miracle' Recovery After Dad Dies in 100-Foot Plunge From NJ Bridge

A father was killed and his two young children were seriously injured when he jumped off of a highway bridge into a New Jersey river Monday evening, New Jersey State Police said.
State troopers were called to the scene on Interstate 287 near mile marker 56 at about 8 p.m. after getting reports from a local police department that a father had jumped off the bridge over the Wanaque River while holding his two children.
Searchers found the man and his children in the woods near the river, troopers said. The man was pronounced dead at the scene.
His two children were taken to St. Joseph's Hospital with serious injuries but are expected to survive. Their ages weren't immediately available.
Dad Dead, 2 Kids Hurt After Jump from NJ Bridge: Sources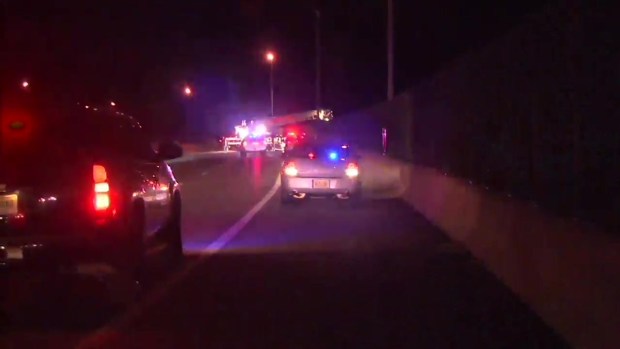 Police found the man's car near the bridge.
Law Enforcement sources sources said that the man may have decided to jump after some sort of domestic dispute.
Footage from the scene shows several police cruisers, fire trucks and other emergency vehicles at the scene.
Traffic is slow in the area because of the police response, and one travel lane is closed. Motorists are advised to find alternate routes if possible.