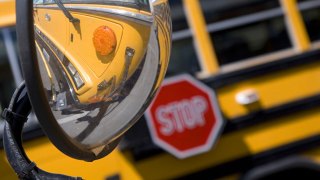 An upstate New York student was dragged by a school bus for nearly a half mile before the driver stopped, state police say.
Troopers say the student from Avoca Central School in the Finger Lakes region suffered minor injuries to a foot on Tuesday afternoon when she got stuck in the bus door while it was traveling on a two-lane highway.
Investigators believe the girl was hung up by her bookbag and the driver didn't realize it right away.
She was treated at St. James Mercy Hospital in Wayland and released.