What to Know
Delays and train cancellations in combination with flooding is causing massive delays for hundreds of thousands of commuters

Flooding was problematic in Jersey City, and major roadways were closed at times throughout the morning

NJ Transit, LIRR and subway riders all dealt with a mucked-up morning rush hour
UPDATE: No End in Sight to Commute Nightmare: Tracks at Penn Station Out of Commission Indefinitely After Derailment
A powerful wind-driven storm pummeled the region with driving rains overnight, causing flooding in and around New York City that turned Tuesday's morning commute -- already complicated by post-derailment service changes -- into an abject nightmare.
Here's your guide to navigating Tuesday's commute.
Flooded roads are compounding lingering problems from Monday's NJ Transit derailment at New York's Penn Station, the second derailment at the busy Manhattan hub in 11 days. NJ Transit said the Northeast Corridor and North Jersey Coast Line were operating on a holiday schedule, mucking up the commute for tens of thousands of people. More details here.
Raw Footage: Cars Fill With Water After Heavy Flooding Hits Jersey City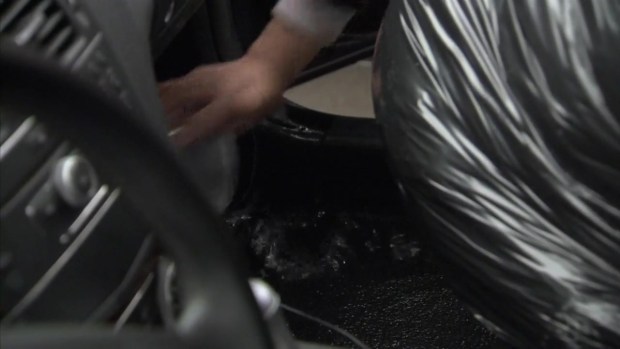 Throngs of commuters desperate for alternatives faced challenges finding them, with the PATH experiencing a brief suspension on the Hoboken-33rd Street line, delays on other lines and the crush of people causing crowding-related problems throughout the New York City subway system.
The Hoboken PATH station was packed with confused crowds trying to figure out service changes on closed platforms, with no announcements or updates, according to one commuter named Carlos. He told News 4 in an email that NJ Transit trains were bypassing Secaucus and dumping passengers into the Hoboken terminal as crowding worsened. Bus and ferry lines surged as people sought alternative means of getting into Manhattan.
Police controlling the number of people going in and out of #Hoboken#PathTrains. Expect to never leave NJ. @NJtransitpic.twitter.com/GcZXQhW4QH

— Jennifer Rosenthal (@jenn_rosenthal) April 4, 2017
Not a good day to be a #commuter. Could you two pretty please work on this @ChrisChristie@NYGovCuomo? @NJTRANSIT@PATHTrainpic.twitter.com/FrFGcT6oKu

— Brandy Dawson (@brandyndawson) April 4, 2017
A complete and utter embarrassment @NJTRANSITpic.twitter.com/wCbArl7XpN

— Norm (@NormanKerft) April 4, 2017
The Long Island Rail Road dealt with its own problems systemwide: in addition to anticipated delays from the NJ Transit derailment -- the two commuter rails run on the Amtrak-owned tracks underneath Penn Station -- it had to deal with an additional broken rail near Queens Village, a disabled NJ Transit train in one of the East River tunnels and signal trouble near Central Islip. Also, there was a passenger in need of medical assistance at Mineloa.
After a morning filled with delays, LIRR says it's back on schedule and subways are no longer cross-honoring fares. But there will still be evening rush-hour cancellations and delays from Monday's NJ Transit train derailment.
Flooding closed parts of major arteries, including the Brooklyn-Queens Expressway, FDR, Henry Hudson Parkway, Moshulu Parkway and the Hutch, intermittently throughout the morning. City bus service was also affected, and service was disrupted on more than a half-dozen subway lines as desperate commuters sought alternatives. Click here for a complete travel guide.
In Jersey City, heavy flooding was reported on Wayne Street, where the water was described as being ankle-deep. Jersey City police have closed some streets because of the high waters.
Flooding is not the only cause for concern. Slippery roads are causing crashes as well. On Interstate 95 near Westchester Avenue exit 8A an accident was causing extensive delays. with traffic going back past exit 11. Crashes were reported near the George Washington Bridge and on the Jackie Robinson Parkway eastbound at Metropolitan Avenue.
The heaviest rain is expected to move out by mid-morning, leaving hit-or-miss showers through mid-afternoon, according to Storm Team 4. A second batch of heaviers showers and thunderstorms is possible after 3 p.m., meteorologists say. Though any storms are expected to be isolated, they may pose additional problems for the evening commute, Storm Team 4 says.
The weather improves for Wednesday, which is expected to be sunny and mild with temperatures in the 60s. Another bout of severe weather is possible for Thursday, though, particularly for parts of central and southern New Jersey. If it's any consolation, Storm Team 4 expects temperatures to hit the 70s next week.