What to Know
No serious injuries were reported in Monday's derailment, which happened at the height of the morning rush

Delays and cancellations continued Monday evening and NJ Transit said NEC and NJCL trains would operate on a holiday schedule Tuesday

Late last month, an Amtrak Acela slipped off the tracks at NY Penn and bumped an NJ Transit train; no one was hurt in that case either
Mass transit riders, including thousands of Mets fans who flocked to Citi Field for opening day, are dealing with a nightmarish evening commute after the second derailment at New York's Penn Station in 11 days.
Monday's NJ Transit derailment at the height of the morning rush left at least four people with minor injuries and prompted a total shutdown of NJ Transit service in and out of the Manhattan hub for more than two hours.
Some lines were being diverted. Amtrak customers were also affected, and the MTA's initial projection of canceling up to 30 LIRR trains out of Penn Monday evening did not bode well for Mets fans trying to get home from the opener. Get the latest details on commute alternatives here.
"We would encourage our riders to leave early to leave late -- that rush hour's going to be very, very tough," said MTA acting chair Fernando Ferrer, addressing LIRR riders.
"It's fair to say that the conditions at Penn affects everybody," he said. "Even though Amtrak owns it, we all dwell in that same place and travel into the same tracks. When something bad happens like this, it affects everybody."
Though limited NJ Transit service and full Amtrak service were restored by early afternoon, the evening commute was still chaotic. Crowds filled up at Penn Station as boards displayed canceled and delayed trains.
"Hell on earth," Lia Lanzo tweeted from New York Penn. "Near-mob conditions," Paul Grygiel posted from Newark Penn.
Commuters at the NJ Transit station in Hoboken were bewildered as different conductors gave them different instructions. Crowds continued to grow at stations and PATH warned of crowding at Newark Penn Station and 33rd Street.
NJ Transit said limited service on the Northeast Corridor and North Jersey Coast Line was subject to 2-hour delays in both directions. Trains heading in and out of Hoboken were subject to 30-minute delays due to congestion caused by Midtown Direct trains diverting to the station.
The pandemonium was set to continue, with NJ Transit saying the Northeast Corridor and North Jersey Coast Line would be on a holiday schedule Tuesday, mucking up the commute for tens of thousands of people.
A bit of a delay @NJTRANSIT at Penn Station pic.twitter.com/gcE3VsxtEY

— Keldy Ortiz (@KeldyOrtiz) April 3, 2017
@NJTRANSIT ...aka hell on earth. pic.twitter.com/xM9GPm7Q7D

— Lia Lanzo (@lialanzo) April 3, 2017
Not reassuring. Thanks @NJTRANSIT for morning derailment inside the station. @amtrak keeps pushing dep by 10 min for last 1 1/2 hour pic.twitter.com/V9R889OzTu

— amykoo (@amykoo) April 3, 2017
This is the USA, in 2017, in NYC. @NJTRANSIT, you should be ashamed. pic.twitter.com/OrmoK6XqGa

— Huss (@HussHarb) April 3, 2017
Near-mob conditions at #NewarkPennStation thanks to @NJTRANSIT minor derailment in NYC 9 hrs ago @CommutingLarrypic.twitter.com/FcC6Ge8bkd

— Paul Grygiel (@GrygielPaul) April 3, 2017
Hoping to get on an Amtrak in 10 min - xhonor to Metropark - current sit #newarkpenn#NJTransit@CommutingLarrypic.twitter.com/jE9QNynfWd

— Rebecca Mazzarella (@RebeccaMazz) April 3, 2017
~just nj transit things~ pic.twitter.com/Opo4kGBB2n

— sam brite (@sbright8) April 3, 2017
A spokesperson for NJ Transit said there was a "slow-speed derailment" as the train out of Trenton pulled into Track 9 at Penn Station around 9 a.m. Customers in the last four cars had to be escorted off, the spokesperson said. NJ Transit said four of the 1,200 aboard suffered minor injuries; the FDNY said it treated five people. All were expected to be OK.
Derailment Halts Service at NY Penn Station for 2nd Time in 2 Weeks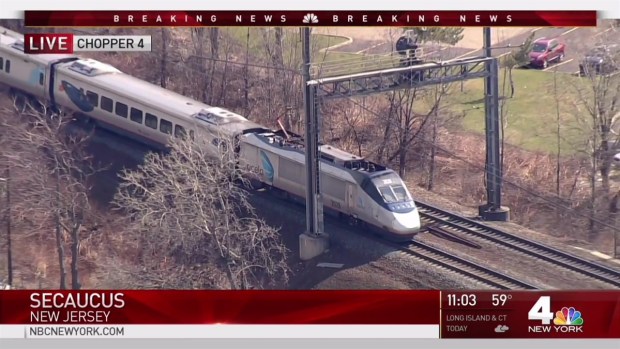 Passengers described feeling a jolt prior to the train reaching the platform, but no crash. At least one Twitter user described "total panic" erupting, and one person was seen being loaded onto an orange stretcher.
The cause of the accident is under investigation; Amtrak, which owns the tracks, said it is assessing the situation.
Delays during the evening rush were expected to mirror those of the March 24 derailment, when an Acela slipped off the tracks and bumped an NJ Transit train heading the opposite way.
Video shows what it took to leave derailed @NJTRANSIT train pic.twitter.com/sSX0S5mGHa

— OnASteelHorseIRide (@NJTCommuter) April 3, 2017
Train derailed on my car @NJTRANSIT making everyone walk forward to exit #commuterproblemspic.twitter.com/YcNjN1hUnQ

— Ryan Davison (@RyanfjDavison) April 3, 2017

Walking through derailed trains is hard wen the cars are all messed up #NJTransit#derailedpic.twitter.com/Udj5HrtE0X

— Brick Lobster (@brickwalters55) April 3, 2017
My train is currently reversing OUT OF penn station. This is not a drill. Happy Monday morning. Thanks for everything as always @NJTRANSIT

— Alyssa (@alyssabraee) April 3, 2017
(1/3) My #NjTransit train lurched forward 3 times then made a bizarre crashing or air pressure release sound. Everyone has to exit from the

— Ruth Hochberg (@Ruth_Hochberg) April 3, 2017
Best part was the train coming to a crashing halt, felt like we hit another train on the platform. Felt great on my knees hitting the seat

— Brick Lobster (@brickwalters55) April 3, 2017

In the actual car of @NJTRANSIT train that derailed in Penn Station.. still on train.. interesting morning pic.twitter.com/ZGYyX2CcJW

— Matt Kassel (@MattKassel) April 3, 2017
@CBSNewYork@NBCNewYork Still on derailed @NJTRANSIT train with work crews outside pic.twitter.com/h7VdrLDYh0

— DKWints (@dkwinters91) April 3, 2017