What to Know
The suspect who slammed his car into a crowd of pedestrians in the heart of Times Square is facing a slew of charges, authorities say

Officials don't believe there's a nexus to terror; sources say the suspect has a history of possible psychiatric, drug and alcohol problems

One woman died and 22 other people were injured after being hit by the vehicle; the driver was taken into custody
The driver who slammed his car into a crowd of pedestrians, killing a young woman and injuring nearly two dozen other people in Times Square Thursday, has been charged with a litany of crimes, including murder, police say.

Richard Rojas of the Bronx is charged with second-degree murder, 20 counts of second-degree attempted murder and five counts of aggravated vehicular homicide, authorities said.
He was arraigned at midday Friday; his lawyer, Enrico Demarco, had no comment. According to the criminal complaint, Rojas told a traffic enforcement agent after the crash "I wanted to kill them."
Times Square Crash Suspect Was High on Drugs: Sources
Rojas, 26, was taken into custody after barreling into the lunch-hour crowd on Seventh Avenue shortly before noon, according to police. Officials and sources say Rojas, who has a history of DWI arrests, made a U-turn on Seventh Avenue at 42nd Street and started speeding down the sidewalk for about 3-and-a-half blocks, mowing down pedestrians before crashing into a traffic pole.
The woman who died has been identified as Alyssa Elsman from Portage, Michigan. She was visiting with her sister and mother. Her sister, with whom she was walking at the time, was also injured when Rojas plowed through. She remained in the hospital Friday with a broken pelvis and collapsed lung.
Car Mows Down Over 20 People in Times Square, Killing 1: Police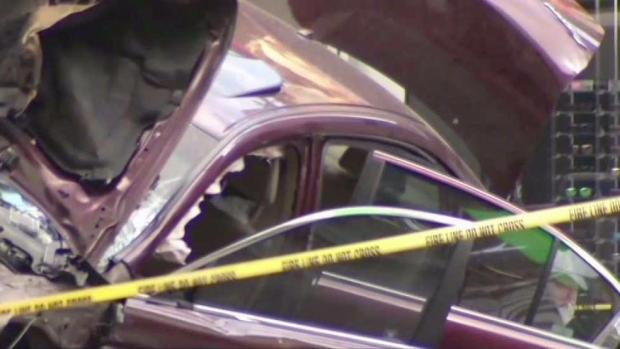 Rojas is a former member of the armed services with a history of arrests for DWI, according to officials and law enforcement sources. He was dishonorably discharged from the Navy, where he once served aboard the USS Carney, for resisting arrest in Florida in 2014. Charges were dropped in the case.
Victims Scattered All Over Seventh Avenue: Police
Harrison Ramos, a friend, told reporters that Rojas hadn't been the same since he returned from active duty in the Navy. He says Rojas was posting "crazy stuff" online that has since been taken down, according to The Associated Press. Other friends say he was having money troubles.
In Pictures: Car Slams into Crowd in Times Square
A cause of the crash is under investigation, but authorities say it's believed to be an "isolated incident" with no nexus to terror. Law enforcement sources say Rojas told police he heard voices and expected to die. They said he has a history of possible psychiatric, drug and alcohol problems, and investigators are looking into whether or not Thursday's crash may have been a deliberate act.
Law enforcement sources say Rojas appeared to be under the influence of drugs or alcohol when he was taken into custody. Sources say he blew a 0.0 when tested for alcohol at the precinct he was brought to for questioning. A law enforcement official said certain statements and tests suggest he was under the influence of something he ingested through smoking.
In one of his two previous DWI arrests, Rojas was driving faster than 99 mph in a 50 mph zone, sources familiar with his record say. He resisted officers while being arrested for DUI in Florida, resulting in the dishonorable Navy discharge, law enforcement sources said. He was most recently arrested last week in the Bronx on a charge of menacing. After the crash Thursday, he allegedly tried to flee cops, then tried to physically fight them, as they brought him into custody.
Major Emergency Response in Times Square After Car Apparently Jumps Curb
Mayor de Blasio said in a briefing at the scene that a total of 23 people, including the woman who died and her 13-year-old sister, were hit by the vehicle. Four of the survivors were taken to hospitals in critical condition. Many had traumatic injuries, including open fractures, officials said at a news briefing, adding those four victims were expected to live.
Social media erupted with fear and concern as witnesses described screaming and abject chaos in the Crossroads of the World. Someone tweeted a photo of a maroon-looking sedan halfway on its side after appearing to crash into a traffic pole. Smoke emanated from the hood as pedestrians stood by in horror.
Police radio captured the urgency of the response.
"Times Square, we got a car running people over on 42-7, going northbound on 7th ave, running people over," one NYPD dispatcher said, according to audio clips from Broadcastify. "Multiple people injured. Notify everyone."
Top News: Georgia Dome Implosion
Published at 1:22 AM EDT on May 19, 2017 | Updated at 2:13 PM EDT on May 19, 2017