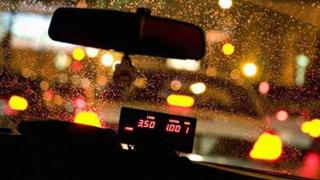 Three teens were arrested and one remains on the run after they placed a taxi driver in a chokehold and attempted to rob him at gunpoint Thursday on Long Island, police said.
The taxi was dispatched to Cedar Road in Westbury for a pickup around 2:30 a.m. and arrived to find four men sitting on a curb, Nassau County police said.
Two of the teens got into the car and one of them placed the victim in a chokehold, police said. The other two approached the taxi, and one of them took out a handgun, demanding money from the victim, according to police.
The victim told them he didn't have any money, and one of the suspects reached into the car and stole his keys, police said. The four then fled the scene on foot.
Police caught up with three of the teens on Prospect Avenue and placed them under arrest. Quraan Williams, 18, Christopher Clausell, 18 and a 16-year-old were charged with robbery. Williams is also charged with criminal possession of a controlled substance and probation violation. The 16-year-old is also charged with criminal use of a firearm, criminal possession of a weapon and possession of a stolen weapon. It was not immediately clear if they had attorneys.
The fourth suspect remains on the loose. Anyone with information is asked to call Crime Stoppers at 800-244-TIPS.