What to Know
Five Westchester County public school districts went into lockout or lock-in mode for hours Tuesday as cops searched for a possible gunman

Irvington, Tarrytown, Elmsford, Hastings and Dobbs Ferry school districts all posted messages sites advising parents of the security

The police probe didn't appear to have anything to do with any of the districts, but lockouts were ordered out of an abundance of caution
School districts in Tarrytown and Irvington, and later, Elmsford, Hastings-on-Hudson and Dobbs Ferry, went into lockout or lock-in mode for hours Tuesday as cops searched for a man who was thought to be armed following a deadly shooting at an apartment complex, authorities said.
All five districts -- Irvington Union Free School District, Tarrytown Union Free School District, Elmsford Union Free School District, Hastings-on-Hudson Union Free School District and Dobbs Ferry -- had messages on their websites advising parents of the security measures following the shooting death of a 34-year-old woman at an apartment in the town.
The children were not believed to be at risk -- the shooting had nothing to do with any of the districts -- but schools were acting out of an abundance of caution as police searched for the suspected gunman. Only students and staff were being allowed into the buildings. Staff were manning all entrances to ensure safety; the security measures remained in place until dismissal.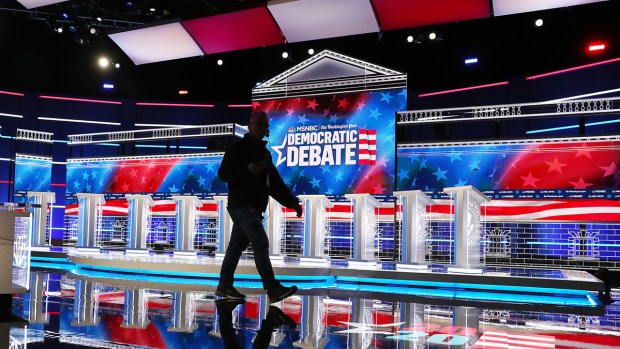 Top News Photos: Candidates Prepare for Nov. Debate, More
By late Tuesday, a person of interest was being interviewed in the shooting, but no arrests had been made. Authorities said the person of interest was detained by police at the Port Authority Bus Terminal in Manhattan.
A Port Authority spokesman said the man, 28, was in line to purchase Greyhound tickets to Wilmington, Delaware, when he was spotted by officers just before 7 p.m. Tuesday.
The spokesman added the unarmed suspect was accompanied by a woman identified as his aunt and the aunt's child. He says the FBI had provided photos of the man.
Tarrytown, Irvington, Elmsford, Hastings-on-Hudson and Dobbs Ferry public school districts serve thousands of students in 18 schools from pre-K through grade 12. Irvington alone says it has 7,000 student across its four schools, according to the district's website.