Police were continuing to respond to more calls of suspicious packages in New York City Wednesday, the latest sign the city's jitters have not eased from Saturday's bombing in Chelsea.
One investigation jammed up traffic during the evening rush Wednesday, when officers looked into a suspicious package on the Major Deegan Expressway, forcing the highway to close between Willis Avenue and the RFK Bridge. It was reopened shortly afterward.
Earlier, an empty suitcase shut down part of Times Square at the height of the morning rush Wednesday after someone called police to report a potentially suspicious package,
The bomb squad responded as a precaution and 42nd Street between Seventh and Eighth avenues was shut down while authorities investigated.
Photos on social media showed both ends of the highly trafficked street closed to cars and pedestrians, and city officials put out a notification advising New Yorkers to expect delays in the area.
Several people in the area said they were concerned but not afraid.
"I experienced 9/11." said Matthew Sadofsky, who works nearby. "Nothing really scares me because that was the scariest day of my life."
Suspicious package reports have been common since Saturday night, when a bomb exploded on 23rd Street, injuring 31 people, and a second bomb was found on 27th Street.
Ahmad Rahami, 28, faces federal charges for allegedly planting those bombs.
Authorities say they believe Rahami acted alone and was not part of a terror cell. Still, nerves are on high and there have been multiple bomb squad deployments throughout the city since to check out packages.
All of those incidents have been false alarms.
Suspicious Package Calls to 911 Surge After NY, NJ Bombings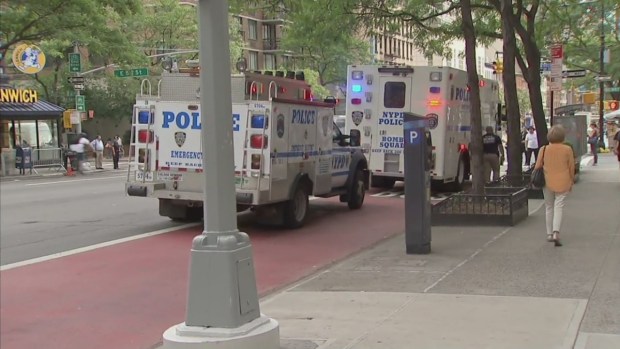 -Bianca Rosembert contributed to this report