What to Know
Preliminary investigation shows Tuesday's subway train derailment was caused by "an improperly secured piece of replacement rail," MTA says

At least 34 people had injuries including smoke inhalation, though all were expected to be OK, fire officials said

Photos posted to social media show passengers walking along the tracks in a dark subway tunnel, using their phone flashlights as a guide
A subway train in Manhattan that derailed Tuesday as it entered a station, tossing people to the floor and forcing hundreds of shaken-up passengers to exit through darkened tunnels is being blamed on human error, not a track defect, New York City transit officials say.
A preliminary investigation indicates the derailment was caused by an "improperly secured piece of replacement rail" that was stored on the tracks, the MTA said.

In Pictures: Subway Panic After Train Derailment
"Storing equipment in between tracks is a common practice employed by railroads across the country to accelerate rail repairs," the MTA said in a statement late Tuesday. "The key to this being an effective and safe practice is making sure that the extra equipment is properly bolted down, which does not appear to have happened in this case."

The MTA said crews are inspecting "every inch of rail" to ensure that every replacement part "is properly stored and secured."
Train Derailment Latest in Series of Subway Woes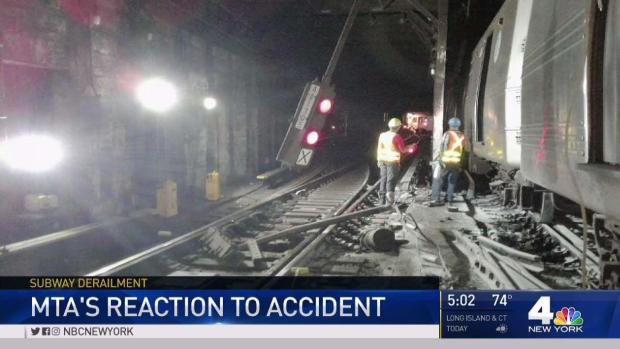 Meanwhile, service had resumed on the four subway lines affected by Tuesday's derailment by about 9:15 a.m. Wednesday, less than 24 hours after the accident that injured 34 people. About half of the victims were taken to hospitals while others were assessed at the scene; all injuries were minor.
Subway Train Derails in Harlem, Injuring Dozens
Photos posted to social media show passengers walking along the tracks in a dark subway tunnel, using their phone flashlights as a guide. Firefighters are seen illuminating the way. The MTA urged stranded riders on other trains not to get off their subways and to wait for directions from crew.
Multiple Injuries in Harlem Subway Derailment
The derailment caused significant damage to the track, switch system and tunnel, dramatic photos released by the union showed.
Gov. Cuomo called the derailment "an unacceptable manifestation of the system's current state."
"It is my expectation that with new leadership brought by Joe Lhota, the MTA will address the fundamental issues plaguing the transit system and overhaul the organizational structure of the MTA," Cuomo said.
FDNY Rescues Children, Families From Pitch-Black Subway
The derailment spoiled what should've been a bright day for the system, coming roughly two hours before the reopening of a subway station at the southern tip of Manhattan that had been closed since it was flooded by Superstorm Sandy in October 2012. The South Ferry station on the No. 1 line reopened after $340 million worth of repairs.
The derailment comes amid a series of breakdowns, signal failures and other issues that have left straphangers at their breaking point. On Monday, the subway rider whose horrifying account of being stuck on a sweltering, powerless train earlier this month went viral held a news briefing to demand the MTA outline an evacuation procedure for riders who may get stranded in the future.
It also comes less than two weeks before the start of Amtrak's summer-long work to repair aging infrastructure at New York Penn Station, a project that is expected to increase subway volume as commuters seek alternatives.