A Spider-Man got into a knock-down brawl with a civilian in Times Square, and the cellphone video that captured the fight is raising the question: was Spider-Man a hero or a villain in this case?
The video, taken Tuesday, shows Spider-Man and a man in a black T-shirt and jeans throwing up fists and knees and punching each other in the head in front of a Toys' R Us as a crowd gathers around them. The two continue to wrestle and punch each other on the ground.
Spider-Man told NBC 4 sister station Telemundo 47 the fight started because the other man told tourists not to take photos with him or to give him tips.
"He did it first," the man in the costume said Friday when he was found again in Times Square. "And I knew something was going to happen, so I got my phone, I put it on video record and I gave it to one of the characters to hold, and the video was recording the entire thing."
Spider-Man Speaks Out After Times Square Brawl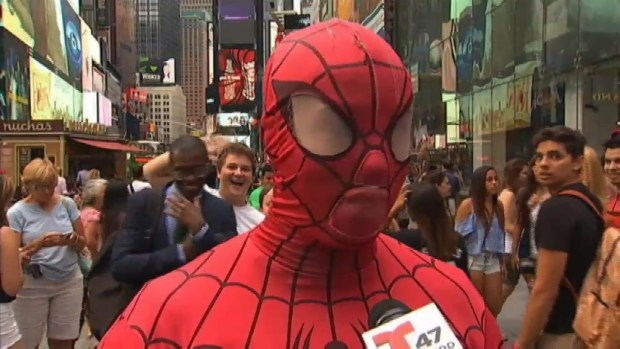 The man on the other end of the masked man's punch Tuesday insists he was the good guy and that he confronted the character after seeing him hassling a tourist for a tip.
"Spider-Man threw the first punch. He's not a hero, not at all, not even a little bit," the man, who only gave his first name as Matthew and works on a nearby ice cream truck, told NBC 4 New York.
But the man who shot the video, Geoff Golberg, told NBC 4 New York over the phone that Matthew was the one heckling the costume character before Spider-Man became fed up.
On Friday, Times Square Alliance president Tim Tompkins decried the attack.
"Another routine day of violence and chaos in Times Square, New York's most iconic space, transmitted globally by the media. We look forward to sitting down with a City Hall task force to address this persistent problem and discuss proposed solutions that we, the community board and our elected representatives think can work," he said.
This isn't the first time a costume Spider-Man has gone to battle in Times Square. One was arrested last year for allegedly punching a police officer after the cop told him to stop hassling tourists. Charges were later dropped.
Spider-Man Brawls With Man in Times Square
In 2014, another Spider-Man was convicted of harassing a woman and taking a swing at her when she didn't tip him for posing a photo with her children in February 2013.
The city and the Times Square Alliance have called for regulating costume characters after incidents where tourists were harassed to get a larger tip, and others were sexually harassed.
One city councilman has proposed a law that would require the costumed characters to be licensed, and the Times Square Alliance has been campaigning for the measure.
A spokeswoman for Mayor de Blasio's office said in a statement Friday: "While most costumed individuals are not engaging in criminal activity, assault by costumed characters in Times Square will not be tolerated. We continue discussions with stakeholders, elected officials, and community members as we find the right solution."
One man in a Spider-Man costume in Times Square -- who was not involved in Tuesday's fight -- agreed, saying behavior like that is bad for the superhero business.