Five years after Superstorm Sandy devastated the Rockaways, city officials announced they $145 million in investments to help protect the region from future storms.
The seven projects include raising shorelines, adding berms and bulkheads to mitigate coastal flooding, restoring native wetlands, adding seawalls and elevating buildings.
Much of the coastal improvements take place in parks and also include play areas, seating areas, sports courts and kayak access.
Much of the money for these projects was leftover from rebuilding the Rockaway Beach boardwalk, which was destroyed during Sandy.
"The old boardwalk was turned into a projectile," Mayor Bill de Blasio said. He recalled: "Seeing it was one of the most jolting images of a world out of whack."
5 Years After Sandy: Cost of Rebuilding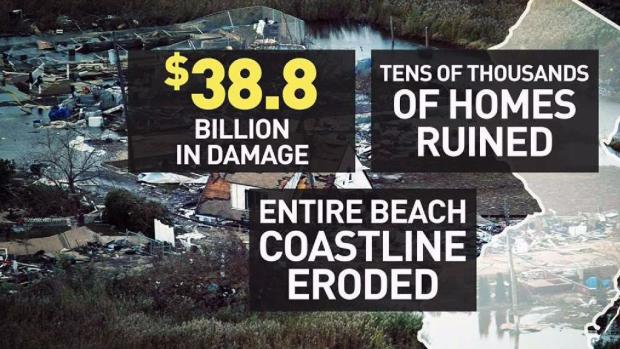 The new boardwalk came $120 million under budget and those remaining funds were rededicated to the community, de Blasio said.
The projects announced Sunday include: Bayswater Park, Edgemere Raised Shoreline, Shore Front Parkway Recreation Zone, Rockaway Community Park, new waterfront parks at Beach 88th Street and Thursby Basin Park and the reconstruction of NYC Parks Operation Headquarters for the Rockaways and Broad Channel.
Contractor Problems Plague Sandy Victims 5 Years Later
Meanwhile, on Long Island, Gov. Andrew Cuomo and others announced a $345 million project to improve the Bay Park sewage treatment plant.
The treatment plant flooded during Sandy, sending billions of gallons of sewage into the western bays.
The structure has already been fortified. But now a new plan will reroute the treated sewage water along an abandoned aqueduct that runs along the Sunrise Highway and disposes of the water three miles out into the ocean.
That will help reduce pollution along the shore. Two pipes will be built as part of the project, plus the aqueduct will need to be renovated.
Cuomo and other officials said this plan costs half the price of other proposals and can be done much more quickly. It is expected to reduce nitrogen pollution by 90 percent along the bay shore.