In an interview Tuesday, NFL Commissioner Roger Goodell did not rule out the possibility of Ray Rice returning to play in the league after serving a suspension for domestic violence and reiterated that the league hadn't seen video that appeared to show the former Baltimore Ravens running back knocking his then-fiance in an Atlantic City elevator before it was released Monday.
"He would have to make sure that we are fully confident that he is addressing this issue clearly, he has paid a price for the actions that he's already taken," Goodell said in an interview with CBS that aired Tuesday.
Two videos, one released Monday by TMZ Sports and another shown later to The Associated Press by a law enforcement official, show Rice punching Janay Palmer — who is now his wife — in an elevator at an Atlantic City casino in February.
Goodell said the league asked for, but was not given, that video — and that "no one in the NFL, to my knowledge" had seen it — before it was posted online.
"We had not seen any videotape of what occurred in the elevator. We assumed that there was a video. We asked for video. But we were never granted that opportunity," he said.
After it was posted Monday, the Ravens cut Rice, and the league barred him indefinitely.
Rutgers Takes Down Ray Rice Banners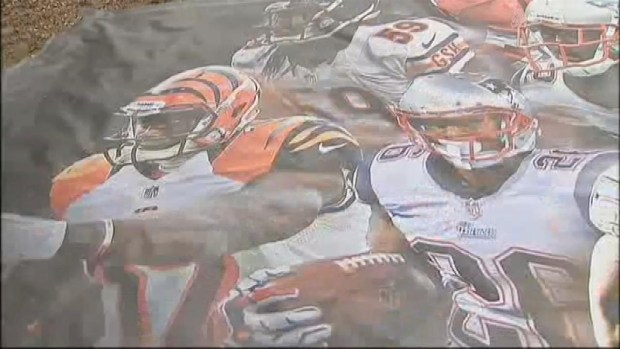 Rice and Palmer were both charged with assault in the incident. Charges against Palmer were later dropped, and Rice was accepted into a pre-trial intervention program that let him avoid jail time and could allow the charges to be purged from his record. State lawmakers have since called for the New Jersey attorney general to review the case.
In July, after TMZ released a video showing what happened outside the elevator, but not inside it, Goodell suspended Rice for two games.
"We certainly didn't know what was on the tape," Goodell said.
"What we saw in the first videotape was troubling to us, in and of itself. But what we saw yesterday was extremely clear, is extremely graphic, and it was sickening," he told CBS. "And that's why we took the action we took yesterday."
A spokesman for the New Jersey State Police, which runs security on casino floors but not in elevators, said it wasn't clear if the NFL had requested the video from them. If the NFL had made the request, Capt. Stephen Jones told NBC 4 New York, "the answer would have been, 'not our case.'"
"It wasn't ours, it never was ours, we never had the video," Jones said.
It wasn't immediately clear if the NFL reached out to Atlantic City police.
Ray Rice's Wife Lashes Out After Punch Video Released
Goodell's comments came hours after Janay Rice lambasted the public and the media in an Instagram. She wrote that she felt she awoke from a "horrible nightmare" and "I'm mourning the death of my closest friend," according to the Baltimore Sun.
"No one knows the pain that the media and unwanted options from the public has caused my family," her post continued. "To make us relive a moment in our lives that we regret everyday is a horrible thing. To take something away from the man I love that he has worked his ass off for all his life just to gain ratings is horrific. THIS IS OUR LIFE!"
Top News Photos: #ImpeachTrump Day of Action Protests
Hours after his wife made the comments on Instagram, Rice told ESPN reporter Josina Anderson the couple is "in good spirits."
"I have to be strong for my wife. She is so strong," Rice told Anderson. "We have a lot of people praying for us and we'll continue to support each other."
Also Tuesday, Nike Inc. announced it cut endorsement ties with Rice. EA Sports said it would take his image out of the Madden '15 video game on its @EAMaddenNFL official Twitter account.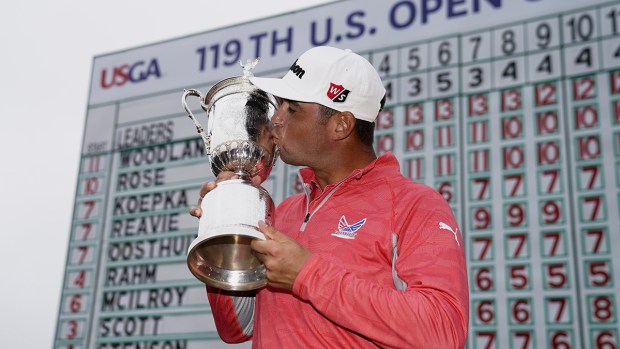 Top Sports Photos: Woodland Wins US Open
The National Organization for Women is among the groups that have called for Goodell himself to step down, citing the Rice case as an example of the league's failure to act on domestic violence.
"The NFL has lost its way. It doesn't have a Ray Rice problem; it has a violence against women problem," said Terry O'Neill, president of the National Organization for Women. "The NFL sets the example for college, high school, middle school and even elementary school football programs. And the example it is setting right now is simply unacceptable. New leadership must come in with a specific charge to transform the culture of violence against women that pervades the NFL."
Meanwhile, at Rutgers University, two large banners honoring Rice, among others who made it to the pros, were taken down from outside High Point Solutions Stadium. For many there, football is a point of pride, especially now that the school is in the Big Ten. But students said taking the signs down was the right thing to do.
"He went here, he's a big star, people look up to him so if you don't do anything about that what message does that send to everybody else?" said junior Alex Devra.
Coach John Harbaugh said he met with Ravens owner Steve Bisciotti, team president Dick Cass and general manager Ozzie Newsome after they saw the TMZ video, and they made the decision to let Rice go.
"It's something we saw for the first time today, all of us," Harbaugh said. "It changed things, of course. It made things a little bit different."
The Ravens had used words like "respect" and "proud" in referring to Rice following his arrest.
In a letter sent to the team's stakeholders Tuesday, owner Stephen J. Bisciotti admitted it was a "mistake" on the part of the organization in March to suspend its investigation into the alleged assault until court proceedings were over.
He continued: "We hope that Ray will continue to work to be the best husband, father and person he can be, and he will turn this awful situation into something positiv. We also have learned a great deal and will continue to strive to be an organization and team you and Baltimore will be proud of. I am sorry we let you down."
The Ravens announced Tuesday that they would allow fans to trade in their Ray Rice jerseys at the M&T Bank Stadium this weekend.
Rice, 27, stood to make $4 million this year.
HELP FOR DOMESTIC VIOLENCE VICTIMS: If you or someone you know may be affected by domestic violence, you can get help by calling the National Domestic Violence Hotline at 1-800-799-7233 or at 1-800-787-3224 (TTY), or by visiting its website at thehotline.org.