The Baltimore Ravens terminated the contract of running back Ray Rice after new video released Monday allegedly showed the former Rutgers star assault his then-fiancee inside an elevator at an Atlantic City hotel, an offense that later earned him a two-game suspension and prompted an overhaul of the league's domestic violence policy.
Ravens coach John Harbaugh told reporters Monday night, "We had a chance to get together and see the video this morning. We came to the decision to release Ray, and that's what we did."
Harbaugh said it was the first time they'd seen the video, and "it changed things, of course."
He wished Rice and his now-wife Janay Palmer well and said he wanted to move forward and be "the best team we can be."
Shortly after the Ravens announced they had released Rice, NFL Commissioner Roger Goodell said Rice would be suspended from the league indefinitely based on "new video evidence available today."
The security video, which was obtained by TMZ Sports, shows Rice's then-fiancee Janay Palmer as they enter the elevator at the now-shuttered Revel Casino on Feb. 15. Once the doors of the elevator close, Palmer appears to lunge at Rice before he punches her in the face twice.
The second blow causes Palmer to hit her head on the handrail of the elevator, leaving her motionless on the floor. Rice is then seen dragging her body from the elevator, a scene that has been shown repeatedly since news of the former Rutgers star's arrest broke.
NFL spokesman Greg Aiello says the latest video was not made available to the league and "no one in our office has seen it until today."
Top News: Venice Flooding, and More
Originally, Rice and Palmer were each charged with simple assault, but the Atlantic County prosecutor's office reviewed the case and dropped the charge against Palmer.
A grand jury lodged the more serious charge of aggravated assault against Rice in March. He has since received initial approval to enter a pretrial intervention program that could result in dismissal of the assault charge against him.
A spokesman for the Atlantic County prosecutor's office said Monday it wasn't planning to pursue additional charges in light of the newly released video. The spokesman would not say whether prosecutors had seen the video in their original investigation.
"All appropriate charges were filed, and the case has been adjudicated in the same manner it would be for anyone," said Jay McKeen.
The couple married a day after Rice was indicted. An attorney for Rice said after a May court hearing that his client was "ashamed of his conduct and he's sorry for what he did." Attorney Michael Diamondstein told reporters the couple had a disagreement and Rice "made a mistake."
Diamondstein declined to comment after the video was released Monday.
Rutgers football coach Kyle Flood called it "a sad day."
"Family's family, but at Rutgers we hold ourselves to an extremely high standard," said Flood, who was working as an offensive line coach while Rice played with the Scarlet Knights.
"The video I saw this morning was difficult to watch," he said. "As a husband and as a father, there's nothing that could justify what I saw on that video.''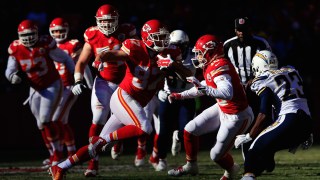 Best of the 2014 NFL Season
The NFL announced in July that Rice would be subject to a two-game suspension in connection with the elevator assault, which sparked outcry within and beyond the sports world over what was perceived to be a slap on the wrist for evident domestic abuse. Rice was also fined over $500,000.
In the wake of the uproar, NFL Commissioner Roger Goodell announced an overhaul of the league's domestic violence policy. The rules outlined last month state players will now be subject to a six-week suspension for a first domestic violence offense and banishment from the league for a second.
In a letter and memo sent to all 32 teams owners following the announcement of the new policy, Goodell said he "didn't get it right" in giving Rice a two-game suspension.
In New Rochelle, neighbors expressed frustration and disbelief at the video, saying the assault was out of character for the hometown boy who they say continued to return and give back after becoming an NFL superstar.
"Ray was -- is -- a decent young man. Always gives back to the community," said Lorraine Brown.
"There's nothing anybody can say to me about Ray that's negative," said Dawn Page, adding she felt "devastated" and upset when she watched the video.
"I cried because that's not the person he is at all," she said.
In Hollow, a sign reading "Where dreams become reality" still hangs three years after Rice dedicated it to the community.
"He never forgot where he came from," said Daryl Miller. "Very level-headed, down to earth person. Ray's a good guy."
Elsewhere, however, the backlash against Rice has been swift and explicit. Social media was filled with messages expressing fury and disgust at Rice and at the NFL, including from fellow players.
That man should be thrown out the the nfl and thrown into jail. Shame on those deciding his punishment. Smh

— Terrance Knighton (@MrKnighton2u) September 8, 2014
Ray Rice, at a loss for words. If anybody believes that's the FIRST time he's hit a woman, I got an ocean in AZ I'd like to sell you #Coward

— LeCharles Bentley (@LeCharlesBent65) September 8, 2014
Let's be clear. The Ravens releasing Ray Rice is because people are upset that the behavior was made this public. They had no issue before.

— Chris Kluwe (@ChrisWarcraft) September 8, 2014
2 games. Disturbing.

— TJ Lang (@TJLang70) September 8, 2014

-- Marc Santia contributed to this report. Follow Marc Santia on Twitter @MarcSantia4NY