What to Know
Forecasters say there's a 1 in 3 chance of rain so heavy it could cause "significant flooding" in parts of the tri-state Sunday

Southeast winds are forecast to increase to 20 to 30 mph with gusts of 30 to 45 mph, especially along the south shores

The system moves out Monday, though it'll be gusty; fortunately, the weather for Halloween looks ideal for trick-or-treating
If you brought your Halloween displays inside because of bad weather earlier this week, you'll want to keep them there through the weekend.
The National Weather Service said heavy rains Sunday could bring strong winds and localized flooding to some rivers and streams thoughout the tri-state region. Storm Team 4 said that some parts of the region could see as much as 4 inches of rainfall as a cold front and tropical system converge over the weekend.
The severe weather threat comes five years to the day Sandy made landfall in New Jersey, beginning its days-long siege on the tri-state area.
Living Through Sandy: A Look Back at Your Photos
Southeast winds are forecast to increase to 20 to 30 mph with gusts of 30 to 45 mph, especially along the south shores and east end of Long Island from Brooklyn to Montauk and coastal southeast Connecticut during the day Sunday through Sunday evening, forecasters say. Expect small tree branches to fall, along with widely scattered power outages.

Check the latest severe weather alerts from the National Weather Service here.
The entire weekend won't be a mess. Saturday is expected to be a nice day for the most part, with highs near 70 degrees and mostly sunny skies. Conditions deteriorate rapidly Sunday, though, as gusty winds and heavy rain move in. An isolated thunderstorm is possible.
Showers may linger a bit through Monday morning, but it's expected to stay gusty for much of the day. Temperatures aren't expected to crack the 60-degree mark. The weather improves for Halloween, with partly to mostly sunny skies forecast and a high of 59 degrees, forecasters say.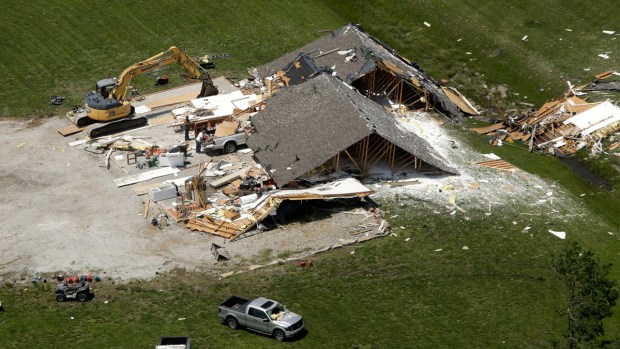 Extreme Weather Pics: 2019 Sees Surge in US Tornado Activity