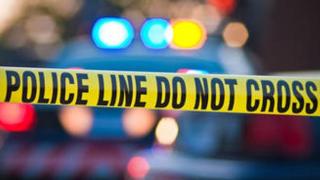 A 47-year-old Queens man has been accused of stabbing his wife to death and faking a suicide note in her name, then going to work and wiping her blood off his shoes, prosecutors said Friday.
Prosecutors say Luis Paguay stabbed his wife, 39-year-old Maria Paguay, multiple times in the chest and neck with a knife sometime between Wednesday night and Thursday evening.
He then allegedly wrote a note in his wife's name claiming her death was a suicide before going to his Whitestone restaurant dishwasher job. Video surveillance from the restaurant shows Paguay washing what appears to be blood off his shoes in one of the restaurant's sinks, officials said.
The victim's 19-year-old son discovered his mother's body at about 6 p.m. Thursday when he got home from school.
Queens District Attorney Richard Brown called the case a "devastating example of the horrors of domestic abuse."
Paguay is charged with second-degree murder, fourth-degree criminal possession of a weapon and tampering with evidence. If convicted, Paguay faces up to 25 years to life in prison.
It was not immediately clear if he had an attorney.