A 5.8 magnitude earthquake that originated in Virginia rattled New York City and the tri-state area Tuesday, shaking skyscrapers, knocking down debris and sending people running into the streets with fears of terrorism.
The 1:51 p.m. quake Tuesday rippled throughout the Northeast, and some buildings were evacuated in New York City, including City Hall, where Mayor Bloomberg was among those ushered outside.
With fewer than three weeks to go until the nation marks the 10th anniversary of 9/11, many jittery New Yorkers said their first thought was that the city was under attack, not experiencing an earthquake.
"I felt dizzy, man," said Adrian Ollivierre, a 28-year-old accountant who fled in his office on the 60th floor of the Empire State Building. "I thought I was having maybe a heart attack, and I saw everybody running. I think what it is, is the paranoia that happens from 9/11, and that's why I'm still out here — because, I'm sorry, I'm not playing with my life."
His colleague, Caitlin Trupiano, said no one in the accounting office knew at first that it was a quake.
"I ran down all 60 flights. I wasn't waiting for the elevator," she said. "We were just counting the floors as we came down."
Outside another exit, on 34th Street, waiting with colleagues from a 52nd floor office, software developer Nathan Chaffee described how the tremor felt. "I was sitting at my desk and all of a sudden my chair is going like this," he said, bending his knees in a repeated bucking motion. "And I thought, 'Am I falling?'"
His colleague Marty Wiesner rushed to the window to look out and around. "I thought we'd been hit by an airplane," he said.
The strongest earthquake ever recorded in New York City was 5.5 in 1884.
The intensity of Tuesday's quake in the New York area was described by the USGS as being between a 2 and 3.
Experts said the area is likely to feel more tremors in coming days.
"You're going to feel aftershocks," Walter Mooney, of the U.S. Geological Survey, told NBC New York.
Gov. Andrew Cuomo said there were no reports of major damage to buildings, bridges, roads, power grids or the Indian Point nuclear power plant.
Bloomberg said at a briefing that a chimney atop a Red Hook housing development had partially collapsed, but said the damage was minor. Officials were not aware of any other significant problems.
"So far we've been lucky to avoid any major harm," Bloomberg said.
Tri-staters said they felt a rolling, 20-second tremor that shook doors, toppled chairs, rattled books on shelves and knocked pictures off walls.
Some people reported feeling nauseous and faint.
"My whole house rocked back and forth," said Sherri Kaufman, of Massapequa Park, N.Y., on Long Island.
Nora Schaaf, who lives on Central Park West, said she could see her entire building shaking.
"It lasted much longer than I thought an earthquake would last ... it seemed to go on for 20 seconds or more," she said.
In Lower Manhattan, the floor began shaking at a press conference with Manhattan District Attorney Cyrus Vance Jr. as it was about to begin.
Gathered media and law enforcement representatives ran from the room, and some reported hearing debris falling. People began fleeing for the exits as security told everyone to get out.
Tri-state residents reported feeling the shakes from New Jersey to Sullivan County to Long Island.
In New Jersey, a Quest Diagnostics building near Teterboro was evacuated. Workers said they saw cracks in walls and damage in the stairwells.
"Just felt a tremor while making lunch in the kitchen," said Janet Leroe, of Washington Township, N.J.
"My house was shaking while I was eating pizza," said Jennifer Grzybek, of Bloomingburg, N.Y.
The MTA said there was no disruption to subway service. Amtrak trains had delays for several hours while officials inspected infrastructure.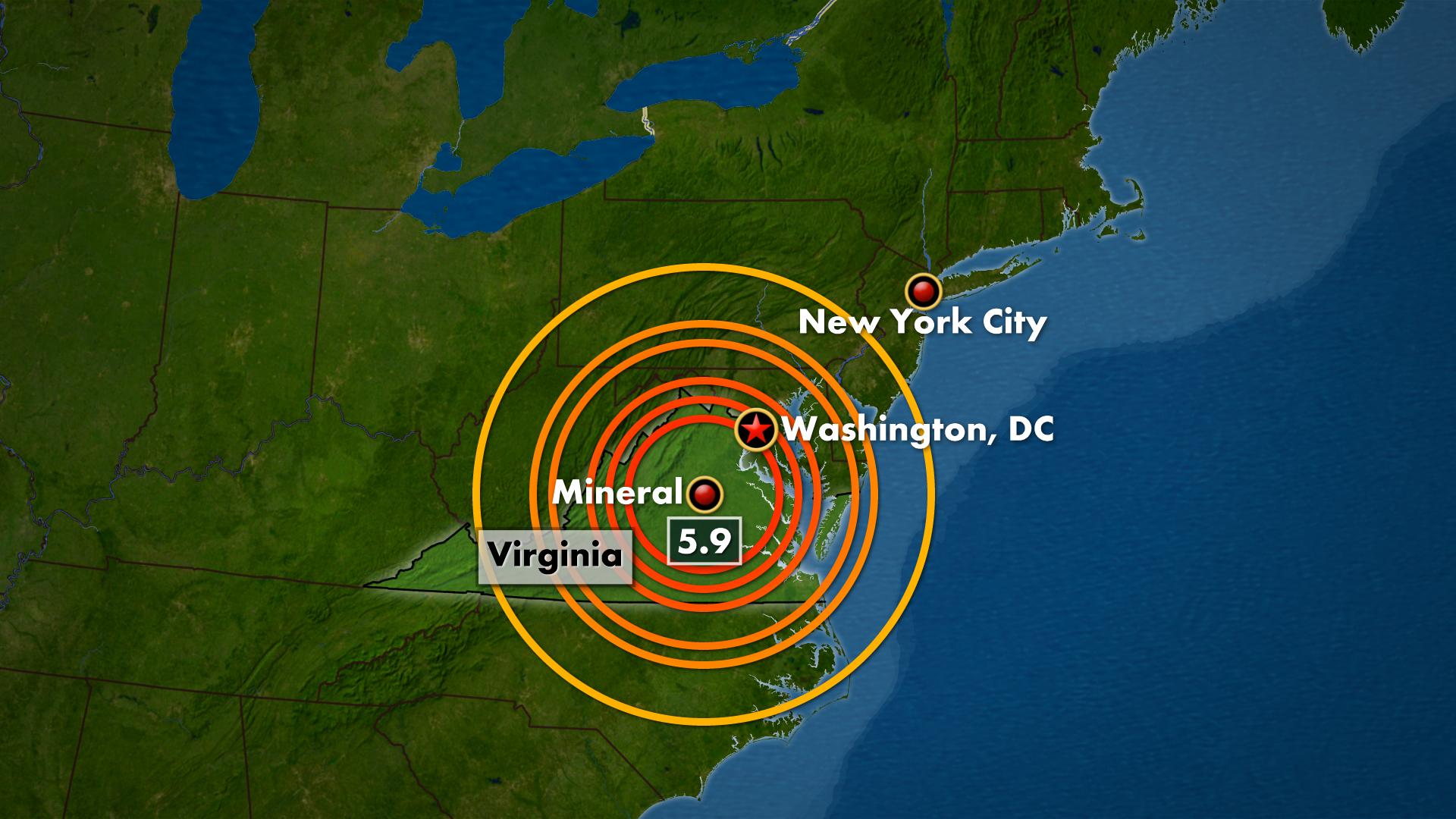 Published at 1:57 PM EDT on Aug 23, 2011 | Updated at 6:36 AM EDT on Aug 25, 2011