Three people are hospitalized in New York City with injuries from a lightning strike as heavy thunderstorms swept the tri-state, authorities say.
The men were hurt at Orchard Beach on Pelham Bay in the Bronx at about 5 p.m., and were being treated at Jacobi Medical Center, according to the FDNY. They did not appear to be seriously injured or physically burned.
Telemundo identifies two of the victims as a father and son, 49 and 19 years old, who sought shelter under a tree during the storm. A friend of the family told the news station that the lightning hit the tree, then sent the men flying at least 10 feet.
The friend showed the station photos of the victims' clothing that appeared to be shredded in parts from the lightning strike.
Visitors at Orchard Beach said they weren't seriously concerned about the rain until they heard the thunder.
"That crack of thunder and lightning came, and that's when everybody started to run away," said Cheryl Greenidge.
Edgar Ayalla said he saw lightning hit either the beach or the water "like an explosion," and that debris was sent flying from that lightning strike.
Elsewhere in the city, torrential rain, thunder and lightning interrupted Labor Day weekend celebrations, halted play at the U.S. Open tennis tournament in Queens and forced the early end to the Electric Zoo musical festival on Randall's Island.
Traffic crawled on the Garden State Parkway in East Orange, where roads were flooded and emergency responders had to attend to a stranded driver, a traffic camera showed.
Flooding on the Cross Bronx Expressway also caused long delays onto the George Washington Bridge.
Kennedy, LaGuardia and Newark airports all reported long delays as a result of the storm.
Another round of thunderstorms is expected in the area by Monday. Labor Day will be otherwise hot and humid.
The last area thunderstorm broke records on Long Island, where the town of Islip saw more than 13 inches of rain fall in a matter of hours on Aug. 14.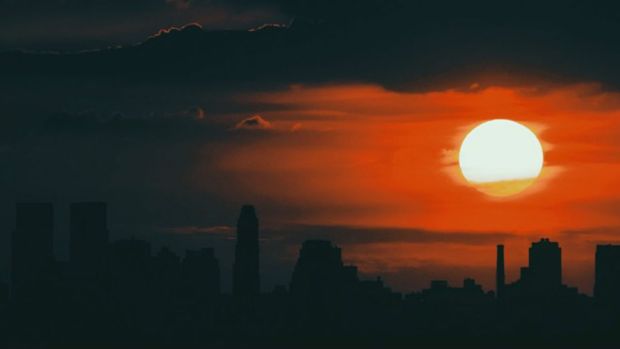 YOUR PHOTOS: Summery New York
Published at 5:02 PM EDT on Aug 31, 2014 | Updated at 7:45 AM EDT on Sep 1, 2014