What to Know
The blaze erupted at the Helen L. and Martin S. Kimmel Pavilion, a state-of-the-art 830,000-square foot tower set to open in 2018

Smoke could be seen as far away as Fifth Avenue

The cause of the fire is under investigation; one person refused medical attention at the scene -- no other injuries were reported
A major fire broke out at a building under construction at NYU Langone Medical Center Wednesday, sending thick black smoke billowing over Manhattan and shutting down traffic in the area.
The city's Office of Emergency Management urged people to avoid the area and close windows near the scene as crews battled the blaze at First Avenue and East 30th Street. The flames were contained within an hour.
Two Alarm #Fire: 1st Avenue & East 30th St, MN. Expect #smoke & #traffic delays in area. People nearby avoid smoke, close windows.

— NYCEM - Notify NYC (@NotifyNYC) December 14, 2016
Authorities said the blaze broke out at the Helen L. and Martin S. Kimmel Pavilion, a state-of-the-art 830,000-square foot tower that had been set to open in 2018. On Wednesday night, the Fire Department said the cause of the fire was accidental: a spark from cutting metal.
One person refused medical attention at the scene; no other injuries were reported. The hospital, one of the city's busiest, was not evacuated.
NYU Langone said in a statement the fire broke out on the seventh floor of the building under construction. Construction crews were cleared out of the building after the blaze.
"The fire was confined to the construction site and was extinguished at approximately 12:45 p.m. During this time, hospital operations did not cease," a spokesperson said. "As a precaution, some patients in rooms on the north side of Tisch Hospital facing the construction were moved to the south side of the floor. They have since been located back to their rooms. Currently we are investigating cause and the extent of damage."
Fire Breaks Out at NYU Langone Medical Center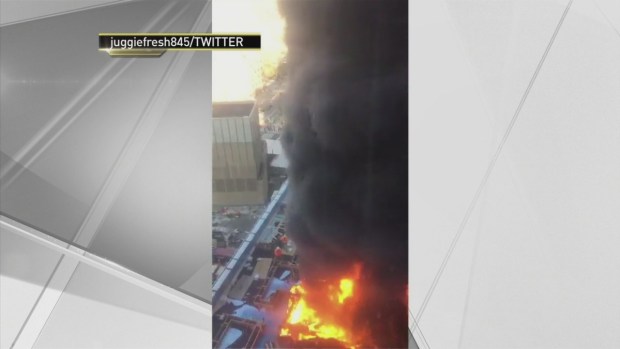 Thick plumes of black smoke could be seen wafting up from the hospital and could be seen as far away as Fifth Avenue. Fire officials said that construction materials -- including rigid insulation boards -- were highly flammable and contributed to the smoke.
#FDNY members on scene of 2-alarm at NYU Hospital 30th St & 1st Ave pic.twitter.com/p5FlvUeAxP

— FDNY (@FDNY) December 14, 2016
Social media erupted with concern as smoke poured over the city. Some video posted to Twitter showed flames leaping from part of the building.
I think NYU Med Center is on fire! pic.twitter.com/28JwK0ZdTT

— Brock Thatcher (@BrockThatcher) December 14, 2016
Looks like a big fire somewhere in #gramercy -- tons of smoke visible from our office over #unionsquarepic.twitter.com/Wo0bEtHjn6

— Caroline McCarthy (@caro) December 14, 2016