Mayor Bill de Blasio toured some of the neighborhoods hardest hit by the blizzard Sunday, pledging to get them "up and running" by the end of the day, as he invited NBC 4 New York on an exclusive ridealong.
The historic blizzard was the second snowiest on record in New York City, dumping 26.8 inches of snow on Central Park by Sunday morning -- one-tenth of an inch away from breaking the all-time record of 26.9 inches set in February 2006.
Other parts of the city got even more snow, with Williamsburg, Brooklyn reporting 29 inches; Port Richmard, Staten Island recording 31.4; and Jackson Heights dumped with the most, a whopping 34 inches.
Not far from that neighborhood in Queens, de Blasio thought the plows in Corona seemed to be doing OK.
Unplowed Streets Anger Queens Residents
"Here we are going on Roosevelt and everything is great," he told NBC 4, the only TV news station present during the storm assessment tour.
But it "was really two different realities" across Queens.
"I went first into LIC and the 59th Street Bridge, and Astoria looked pretty good," he said. "But when I went into Woodside and Sunnyside, I wasn't satisfied."
As the mayor traveled back toward the snowiest blocks, he pledged: "Give us today, and we are going to get those neighborhoods up and running."
Snow Plow Stuck on Queens Street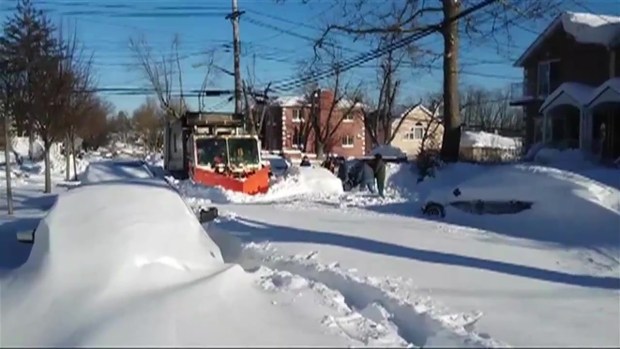 When asked to respond to Queens residents' frequent complaints that they feel forgotten during snowstorms, de Blasio said that was "a mythology we should respond to" and directed his car detail to Corona.
"So that's a secondary street, that's pretty good," he noted from the car. "This one's relatively good, although all the snow kicked out is a problem."
Then he got out and looked at streets that hadn't seen a plow.
Asked by NBC 4 if it was fair for someone on that Corona street to say, "Where's the plow?," the mayor said, "It's fair to say it. The plow has to show up today and get the job done."
Plow Truck Crashes into Parked Car in Queens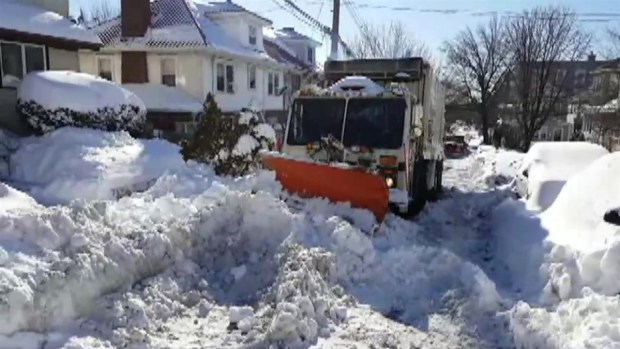 The city's Office of Management and Budget said the streets of the city's largest geographic borough were more than 95 percent plowed by Sunday morning, and there were 910 plows on the streets there as of Sunday afternoon. (Click here to see when your street in NYC was plowed.)
But people were still dialing 311 to complain about unplowed streets -- the city says it got about 900 calls as of Sunday afternoon.
"They should have made a couple of passes and it would have never got to this point," one resident of Maspeth said. Many tertiary roads in that neighborhood remain untouched.
Some residents in Maspeth were so frustrated that they tried to guide plows to their streets, usually to no avail.
"They mayor told us for two days: 'Stay inside your home, don't go out, don't go to work, don't do everything. We'll do everything so everything will be taken care of.' Nothing is taken care of," one resident said.
A hashtag started on Twitter, #PlowQueens, in response to the streets, some of which were snowier than surrounding sidewalks.
#plowqueens Its Monday morning and no plow down my block yet. Hope the teachers find parking Diblasio! pic.twitter.com/7ar6OboQXr

— KC (@Cuzok1) January 25, 2016
Just took this photo of 85th Ave in #Woodhaven. Designated a secondary street. Hasn't been plowed once. #PlowQueenspic.twitter.com/QqSlSidV6f

— Alex Blenkinsopp (@AlexBlenkinsopp) January 25, 2016
During the day #PlowQueens#Queens#Woodhaven@BilldeBlasiopic.twitter.com/fYcUnLhAlA

— Eddie Jae (@EJBRONZE) January 25, 2016
No plow in sight all day. I guess Monday is stay home day again. #Digging#plowqueens#blizzard2016#snowdaypic.twitter.com/VwSZgtRdlc

— Frankie (@frankiebeans) January 25, 2016
OMB spokeswoman Amy Spitalnick said some plows got stranded in those parts of Queens where the snow fell the fastest and heaviest, and "as soon as they heard about the need for more plows, the mayor and commissioner immediately moved to send many more in."
Corona resident Dorena Botero had a different complaint. She did get a plow -- and it buried her car.
"It tends to push [the snow] back -- we gotta come back down and do the hard work once more," she said.
De Blasio said if people don't move their cars and avoid unnecessary driving, it will allow plow to work to clear the streets and allow emergency vehicles to get through.
Another driver, Marcelo Tacuri, was trying to move his car parked in a school zone.
"That actually begs an interesting question," said the mayor, calling it a safety issue he would direct his first deputy to solve.
Later, his office would issue a press release stating that the city is "taking the rare step" of permitting cars currently parked adjacent to schools in 'No Standing - School Hours' zones to remain parked until Wednesday, Jan. 27. The Department of Education is directing principals to make arrangements for safe drop-offs and pick-ups.
The city is also extending the suspension of alternate side parking in New York City until Monday, Feb. 1.
Back in Corona, meanwhile, de Blasio was seeing blacktop on some streets -- which was "great" -- but remarked on another, "This street needs work. Has to be done going into the morning hours."
A truck got stuck in the snow on one Corona street, making the entire block totally impassable.
Despite the plowing challenge ahead, the mayor praised residents like Elizabeth Symeonides for proper shoveling.
"I always pile it up on the side," she said. "I try not to inconvenience my neighbors."
De Blasio said, "Now that is a good citizen."
Her response could also pass as political wisdom.
"Hopefully this in a week will be all forgotten," she said.
"It'll all be just a memory," said the mayor.