What to Know
Gov. Andrew Cuomo announced that New York state will step in to keep the Statue of Liberty open amid the government shutdown

Lady Liberty and Ellis Island closed abruptly on Saturday "due to a lapse in appropriations"

Cuomo says the state will spend about $65,000 a day to pay federal employees' salaries during the shutdown
New York state will step in to reopen the Statue of Liberty and Ellis Island on Monday, despite the federal government shutdown, Gov. Andrew Cuomo said.
The federal monument closed abruptly on Saturday when federal lawmakers failed to reach a budget agreement. The National Park Service announced that both New York sites would be closed "due to a lapse in appropriations."
New York State will reopen the Statue of Liberty and Ellis Island. We will not stand by as this symbol of freedom and opportunity goes dark. pic.twitter.com/s73nTc8ipK

— Andrew Cuomo (@NYGovCuomo) January 21, 2018
Shutting down the park jeopardizes an economic driver for the State of New York.

But the Statue of Liberty is more than just an economic driver. This park is a symbol of New York and our values.

And her message has never been as important as it is today.

— Andrew Cuomo (@NYGovCuomo) January 21, 2018
Speaking in front of Lady Liberty, Cuomo said Sunday that the state would spend $65,000 a day to pay federal employees to keep the landmarks open.
"That is one of the best economic investments we've made in a long time," Cuomo said.
"It's a major income generator for New York State," Cuomo said. "Symbolically, you can shut down the government but you can't shut down the Statue of Liberty."
Tri-State Feels Federal Government Shutdown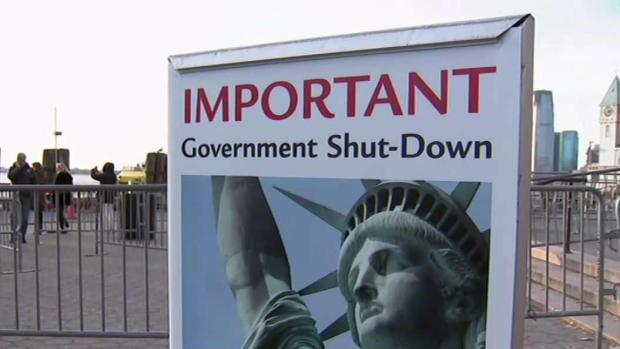 Streams of disappointed visitors were turned away from Lady Liberty for the second day in a row on Sunday -- casualties of the government shutdown.
"We've come all this way. We had our tickets like six months ago and we can't even go," Julie Kettle, from Sydney, said. "We even got tickets to climb the crowd and we can't do it."
Abigail Carrillo and her family came from Mexico. "That's like a New York icon, so it's pretty bad that it's closed," she said.