Huge crowds gathered in lower Manhattan on Sunday for the world's best known annual Pride march.
The 2017 Pride parade began at noon on Fifth Avenue and 37th Street, then marched down Fifth Avenue, turned onto Eighth Street and down Christopher Street. It ends at Greenwich Street.
That takes the 2-mile parade past the Stonewall Inn, now a national monument and the birthplace of the modern gay rights movement.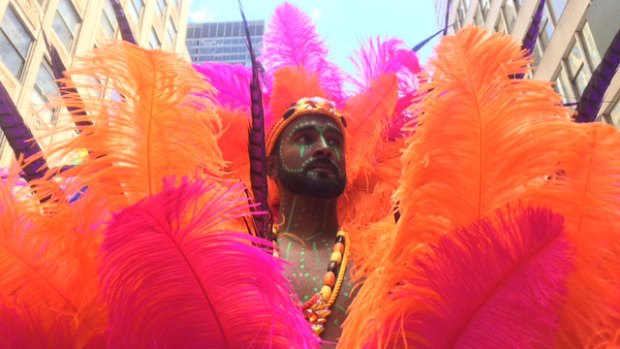 Rainbows Everywhere! Images From NYC's 2017 Pride Parade
But between the music and cheers, political views sounded off.
A group of protesters were taken into custody in front of Stonewall in the afternoon, police said. Charges are not known yet, nor the number of people taken into custody, police said.
Last year, more than 2 million people came to watch 32,000 marchers, the organizers said.
Grand marshals Brooke Guinan, a trans advocate and NYC firefighter, Krishna Stone, a Gay Men's Health Crisis activist, and Chinese LGBT activist Geng Le led the parade.
The theme is "We Are Proud."
Here are the street closures you can expect from noon to 7 p.m.
FORMATION
41st Street between Park Avenue and Fifth Avenue
40th Street between Sixth Avenue and Park Avenue
39th Street between Sixth Avenue and Park Avenue
38th Street between Sixth Avenue and Park Avenue
37th Street between Sixth Avenue and Park Avenue
36th Street between Sixth Avenue and Park Avenue
ROUTE
Fifth Avenue between 41st Street and Eighth Street
Eighth Street between Fifth Avenue and Sixth Avenue
Greenwich Avenue between Sixth Avenue and Christopher Street
Christopher Street between Greenwich Avenue and Greenwich Street
DISPERSAL
Greenwich Street between West 11th Street and Leroy Street
FESTIVAL
Hudson Street between Bethune Street and West 14th Street
West 13th Street between Ninth Avenue and West Fourth Street
MISCELLANEOUS
Fifth Avenue between Eighth Street and Washington Mews
Bleecker Street between Christopher Street and West 10th Street