What to Know
NY's Office of Children and Family Services and other state departments are demanding information on migrant children from foster agencies

The missive comes hours after Gov. Andrew Cuomo expressed frustration over his inability to get the information from federal authorities

Sources at foster agencies say it's 'politics,' wondering why the state wants to intervene in a protected federal arrangement
New York state has demanded all federally-contracted foster agencies to send detailed information on each of the immigrant children in their care after Gov. Cuomo expressed frustration over his inability to wrangle that information from the federal government, News 4 New York has learned.
Cuomo had given the agencies a deadline of 10 a.m. Friday. That deadline came and went.
New York's Office of Children and Family Services was among several state departments that sent a letter to foster agencies asking for extensive information on the migrant children in their care and on their contracts with the federal government.
"You should consider this the request the equivalent of a subpoena for such records under our authority," Acting Commissioner Sheila Poole wrote in the letter dated June 21, adding that failure to respond by Friday morning could result in the state's "suspension, revocation or limitation of your residential program's operating certificate; the withdrawal of approval of your program's authority to board out children; and/or the referral of the matter for criminal prosecution."
NY Demands Info as Migrant Kids Cope
About a dozen local agencies are struggling to comply with the governor's request. Some of the programs say their contracts with the federal government prevent them releasing the information; many missed the deadline and pleaded with the state for more time.
The governor's counsel insisted Friday it's Cuomo's legal obligation to ensure that the children are being properly cared for.
"We have a statutory and constitutional obligation to care for them under our laws," said Alphonso David. "Health and safety are being protected."
But the programs, including Children's Village in Dobbs Ferry, say the children are already being protected, receiving individual and group counseling, as well as medical care.
"The children are well cared for," said Dr. Traci Gardner, one of the first people to greet the children who arrived at Children's Village after being separated from their parents.
The state's strongly worded letter was sent hours after Cuomo announced frustration Thursday over his inability to get information from federal authorities on the estimated 700 immigrant children who have been sent to foster care agencies in New York.
Uncertainty Remains For Families Split Up At Border
The Democrat told reporters during a teleconference Thursday afternoon that he sent a letter to Health and Human Services Secretary Alex Azar requesting information on the children being housed in New York so the state can provide appropriate services, including counseling and mental health evaluations.
On Friday, he appeared on CNN's "New Day" and said it was "bizarre" that the federal Department of Health and Human Services doesn't allow contracted foster care agencies to divulge information about the children to state authorities seeking to offer assistance.
Mayor de Blasio sent a similar later Friday, writing to Azar, "I am deeply concerned for the health and safety of the hundreds of children separated from their parents at the southern border who are currently in New York City."
De Blasio's letter indicated there were about 240 separated children in custody at one city childcare center, and many "are struggling with profound emotional trauma and require immediate medical care," he wrote.
In his letter to Azar, de Blasio specifically asked for information on the number of kids separated, their ages and how many have been placed with foster families; and how the federal government will help the kids stay in daily contact with their families, as well as provide health care, legal services and education. The mayor also asked to know how the feds will reunite the families -- and exactly when that will happen.
New York is receiving so many displaced children because the state has one of the largest foster-care networks in the nation, Cuomo said. He described the federal Health and Human Services as being in a "mad scramble" to find housing for the immigrant children while refusing to provide state officials with any information.
Cuomo Issues NY Agencies Caring for Migrant Kids Ultimatum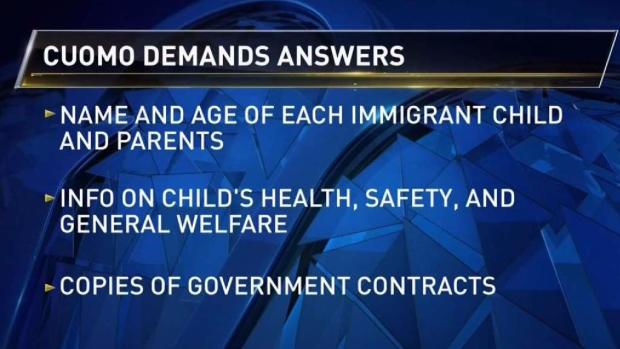 "The state has a right to know what's going on in those foster care agencies," Cuomo said.
Among the information OCFS is now asking of the foster agencies: copies of contracts with the federal government to provide care to immigrant children; summaries of any verbal or informal agreements with federal entities to provide care; summaries of verbal requests from the federal government on securing beds or service for immigrant children.
As for the children themselves, the OCFS is asking each agency for (as excerpted from the letter):
The name and age of each Immigrant Child;
All assessment available regarding the Child's health, safety and general welfare;
The name and ages of the parents of each Immigrant Child;
The date such child was separated from his or her parent;
The place that the Immigrant Child was separated from his or her parent;
The names and last known location for any siblings of the Immigrant Child;
The origin country of the Immgirant Child;
The primary language spoken by the Immigrant Child;
The reasons known to your agency that Immigrant Child and his or her family attempted to cross into our country;
The length of time you have been caring or serving such Immigrant Child
As foster programs try to figure out next steps in whether to comply with the state and city request, which contradict the conditions of their contracts with the federal government, the concern for the emotional and mental well-being of the children continues to grow.
"They're feeling sad, they're scared, they're concerned about what's gonna happen next. They often ask me, 'How long will I be here?'" said Gardner. "It's challenging, I've been doing this for 10 years."
Groups Caring for Migrant Kids Unsure of Future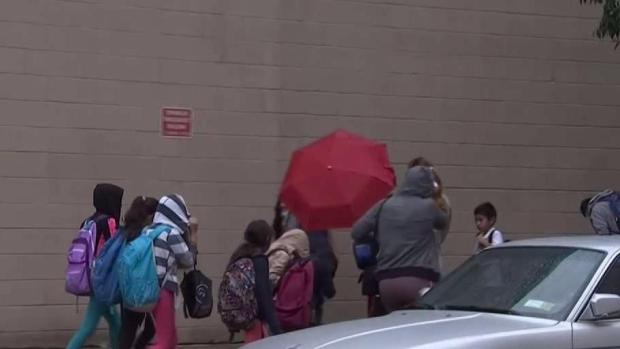 Officials said Thursday that already a dozen of the hundreds of migrant children in New York City have been seen at hospitals: "They are sad, despondent and we are unable to help them with their emotional scars," said Dr. Daran Kaufman, who oversees pediatric emergency at North Central Bronx Hospital.