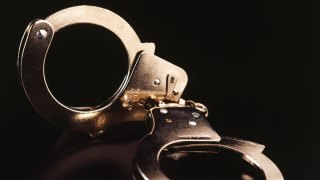 Police say two Brooklyn teens have been arrested in the robbery of an 18-year-old woman who was dragged out of an elevator in her apartment building by her hair, then punched and kicked.
Tyler Hoppin and Malique Young, both 18, were both charged with robbery in the mugging at the building in Midwood at about 9:30 p.m. Sunday. Hoppin was also charged with assault and criminal possession of stolen property.
The teens were cuffed after authorities released footage of the attack, which shows two robbers following the 18-year-old woman into the elevator, then dragging her into a hallway by her hair. The robbers then toss her to the floor and punch and kick her repeatedly.
They're then seen running out of the building with the woman's purse. One of the suspects tossed the bag in the escape.
The victim was treated for bruising around her eyes at Coney Island Hospital.
It's not clear if the men have attorneys.