A hotel maid who accuses ex-International Monetary Fund boss Dominique Strauss-Kahn of sexual assault sued him Monday, seeking unspecified damages as a result of what she calls a "violent and sadistic" attack in a room at the upscale Sofitel hotel that left her life "in shambles."
Lawyers for the maid, Guinean immigrant Nafissatou Diallo, wrote in the lawsuit that Strauss-Kahn "intentionally, brutally and violently sexually assaulted Ms. Diallo and in the process humiliated, degraded, violated and robbed Ms. Diallo of her dignity as a woman."
Read the entire lawsuit in .pdf form
The lawyers, Kenneth Thompson and Douglas Wigdor, promised in court papers that if the case goes to trial, they will introduce other instances when Strauss-Kahn sexually attacked women in hotel rooms and apartments around the world, assaulted employees who were coerced into complying with sexual demands or accosted women "going about their normal day" with inappropriate sexual remarks and attempts to get them to perform sexual acts.
RAW VIDEO: DSK Leaves Home, Arrives at Court
The lawsuit says Strauss-Kahn injured Diallo's shoulder, bruised her vagina, tore her pantyhose and violently grabbed the back of her head during the attack.
The lawsuit, filed in state court in the Bronx, accuses Strauss-Kahn of acting like a common criminal afterward, fleeing the midtown Manhattan hotel so quickly that he left behind traces of his semen, along with bloody tissues.
"In his haste to flee the scene of a crime, he rushed out of the hotel with toothpaste smeared on the outside of his mouth and was looking over his shoulders," the lawsuit said.
DSK Maid Makes Public Statement [Raw]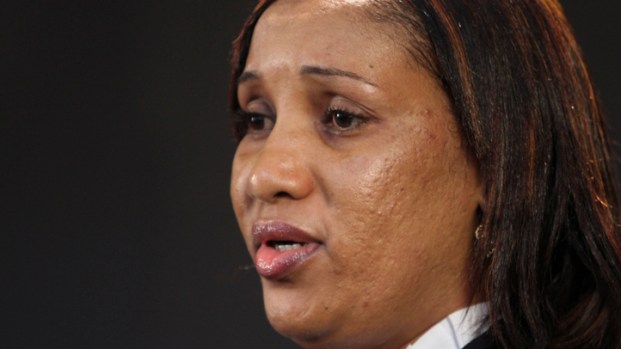 The attack has left Diallo physically and psychologically harmed, with permanent damage done to her professional and personal reputations along with severe mental anguish and emotional distress from which she may never fully recover, the lawsuit said. She suffers great emotional distress, humiliation, depression and physical pain, and the experience has "left Ms. Diallo's life and her young daughter's life in shambles," it said.
Lawyers for Strauss-Kahn said the maid's lawsuit has no merit and their client will fight it vigorously.
"We have maintained from the beginning that the motivation of Mr. Thompson and his client was to make money," attorneys William W. Taylor and Benjamin Brafman said. "The filing of this lawsuit ends any doubt on that question."
The filing of a civil lawsuit so quickly after an arrest provides an avenue for lawyers to pursue evidence and interview witnesses for a potential civil trial while memories are fresh.
Strauss-Kahn, widely seen as a potentially successful French presidential candidate before his May 14 arrest, was pulled off a plane and detained hours after Diallo reported she was attacked. He has pleaded not guilty to charges of attempted rape and other crimes. He and his lawyers have called a series of interviews Diallo conducted in recent weeks "an unseemly circus" designed to inflame public opinion.
Strauss-Kahn, who's 65 and married, resigned his IMF post after his arrest. He was freed from house arrest last month after prosecutors said publicly that they had discovered facts that cast doubt on his 32-year-old accuser's credibility.
Prosecutors have said Diallo lied about her background — including telling them an emotional story of being gang-raped in her homeland. She says now she was raped but not in the manner she described as part of an application for U.S. asylum.
Strauss-Kahn, who isn't permitted to leave the United States, is due back in criminal court Aug. 23.
The lawsuit recounts Diallo's version of what happened on a Saturday in May in the Presidential Suite at the luxurious Sofitel hotel, saying she entered the room to make sure the guest had checked out, only to see Strauss-Kahn suddenly appear and charge at her completely naked.
It says he began to sexually attack Diallo, grabbing her breasts against her will and closing the door to prevent her from leaving the suite, where guests pay up to $3,000 per night to enjoy a bedroom, a living room, an office, multiple bathrooms and a corridor stretching from one end of the suite to the other. Strauss-Kahn, the lawsuit notes, was charged only $560 for the suite.
The lawsuit says Strauss-Kahn pushed Diallo into a bedroom, where he forcibly tried to make her perform oral sex, ignoring her pleas for him to stop.
"With violence and depravity in his heart, and having the confidence of sexually assaulting other women in the past who did not immediately come forward, defendant Strauss-Kahn forced Ms. Diallo all the way to the back of the suite and down on her knees outside of a bathroom at the end of the corridor," the lawsuit says.
It adds that Strauss-Kahn "violently grabbed the back of Ms. Diallo's head" and committed a sexual assault.
Afterward, Diallo spit his semen onto the carpet, got to her feet and fled the room, reporting the attack to housekeeping supervisors, hotel security staff and later police detectives, the lawsuit says.
The lawsuit says Strauss-Kahn appeared agitated and nervous after he jumped into a cab outside the hotel and met his daughter for a short lunch "that he hoped would provide him some sort of alibi."
It says he called his wife in France on his way to the airport, saying in substance: "I have a serious problem in New York."
The lawsuit says Diallo's actions after she reported the attack prove that she did not know Strauss-Kahn's identity. It says she told doctors and nurses that she was sexually assaulted by a naked man with white hair, which Strauss-Kahn has.
The lawsuit says doctors and nurses who performed a sexual assault forensic examination on Diallo noted that she was "tearful" as she described the sexual assault and "paused while describing acts of fellatio."