What to Know
Construction at LaGuardia Airport, along with bad weather and broken traffic lights, created a traffic nightmare earlier this week

Officials are apologetic and say the delays are "unacceptable"

But taxi dispatchers predict construction will continue to delay traffic
A nightmare traffic jam at LaGuardia Airport earlier this week still has travelers fuming.
"It was so bad. I've never seen it so bad in my years here," said Delroy Smith, a taxi dispatcher at the Queens airport.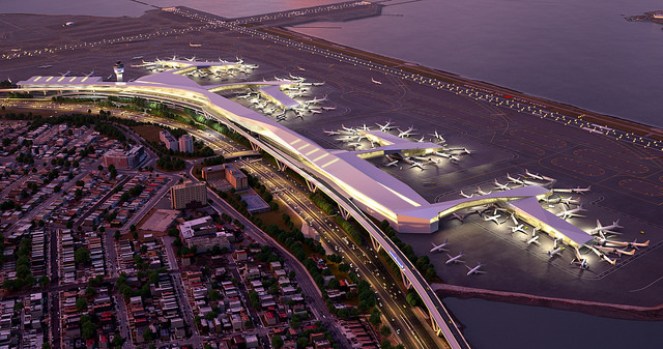 LaGuardia Airport Redesign Renderings
The traffic jam Sunday and Monday brought the airport's roadways to a standstill, forcing travelers to sit in the mess for hours.
Construction on a new 3,000-space parking garage -- the first of the new $4 billion terminal at LaGuardia -- led to detours at 94th Street, the first exit from the airport that has you head toward Manhattan. The project supervisor told NBC 4 New York that on Monday, traffic light problems fouled up the exit that day.
Combined with huge flights delays due to bad weather, the construction and light problem created a perfect storm. Gothamist reports the traffic was so bad that some people simply bailed out of their cars and taxis near the Grand Central Parkway off-ramp and began walking to the terminals.
Midnight at #LGA and it looks like rush hour. @PANYNJ#roadworkpic.twitter.com/ephN4WrSyO

— Andrew Siff (@andrewsiff4NY) August 22, 2016
Have never seen anything like traffic at LGA. Ppl just getting out of taxis and cars on GCP & walking. pic.twitter.com/FC5N9EPcTK

— katie rosman (@katierosman) August 22, 2016
Parents with babies, men in suits walking on highway due to outrageous traffic at La Guardia Airport pic.twitter.com/t49cOhxlpN

— katie rosman (@katierosman) August 22, 2016
Joined dozens of other #laguardia travelers & hopped out of our cab early to walk rest of the way. How is this even a thing in #newyork ?!?!

— Jennifer Schulze (@WindyCityMom) August 22, 2016
The construction team, LaGuardia Gateway Partners, said in a statement, "We are aware of the stress this is causing, realize it is untenable, and apologize to passengers."
Gov. Andrew Cuomo's office added, "These delays are unacceptable, and we are directing LGP and the Port Authority to come up with a plan to minimize undue and unsafe impacts on travelers."
On Thursday, though grumbling from travelers continued, there were signs of improvement. By moving the taxi line east of Terminal B, cabs can now take passengers into the city without having to linger at the airport.
Also, according to the construction project manager, the detour that was jamming up vehicles Sunday has been fixed. And air traffic gets a lot lighter in September, which should reduce road traffic.
Indeed, an NBC 4 test drive from Citi Field took only five minutes Thursday afternoon, compared to 45 minutes Sunday night.
Biden Commends Plan to Renovate LaGuardia Airport
The Port Authority has been tweeting from its @NY_NJairports account daily about construction advisories and say travelers should check for updates before heading to the airport. At a minimum, passengers should check in two hours before their flight departure.
It also encourages travelers to share taxis, take public transportation like the Q70 Limited MTA bus (which goes nonstop to and from the Jackson Heights-Roosevelt Avenue subway), and to meet drivers picking them up at the P7 Lot using the free blue shuttle bus.
It was during a 2014 speech about the nation's crumbling infrastructure that Vice President Joe Biden, a Democrat, said that if a blindfolded man were brought to LaGuardia he would think he was in "some Third World country."
Biden later joined New York Gov. Andrew Cuomo, also a Democrat, for last June's ceremonial groundbreaking for the $4 billion LaGuardia upgrade.
The new 1.3 million-square-foot central terminal with 35 gates, a new parking garage and connection to trains and subways is scheduled for completion by 2022.
The new main terminal will be moved 600 feet from the footprint of the existing facility to give planes more acreage at the cramped airport.