As investigators expanded their search for more possible serial killer victims along a remote coastal road, the mother of one woman whose body was dumped there is wondering how many more there could be.
Lynn Barthelemy's daughter, Melissa, was found dead in the beachfront Long Island area last December. Melissa, 24, of Buffalo, N.Y., was among four bodies found last year.
Another four sets of remains have been found, but not yet identified, since investigators resumed searching last week, taking advantage of the warmer weather.
"I'm so angry that this guy is still out there," Barthelemy told NBC New York. "And who knows how many others that are going to be taken away from their families before they do find him, even if they ever do find him."
A Mother's Pain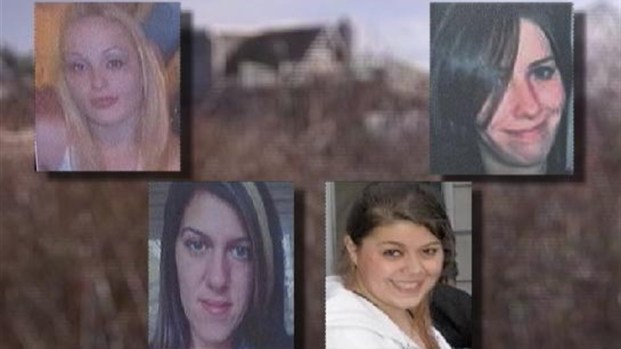 Barthelemy said the families of the four women found are planning a candlelight vigil out at the beach on June 11.
Authorities have been tight-lipped about any leads they may have, and have not verified any link between the new findings and those discovered last year. All four of the women found in December were Craigslist prostitutes.
Suffolk County police said Tuesday that none of the four new findings is Shannan Gilbert, the New Jersey woman whose disappearance last year set off the initial search and led to the findings of remains in the area.
Amid rain, wind, fog and tick-infested underbrush, police expanded their search Tuesday, combing seven miles of coastland along Ocean Parkway in Babylon.
Cadaver dogs and cadets from the Suffolk police academy were assisting in the search. For the first time Tuesday, teams worked both the north and south sides of Ocean Parkway, with the brush on one side and wide open beaches on the other.
The mother of another woman found dead last year told NBC New York that the new discoveries bring fresh nightmares.
Shannan Gilbert's Disappearance: A Timeline
"It's like I just found out about Megan all over again," said Lorraine Waterman Ela. "It's like the day you found out the DNA was positive."
The other two victims who have been identified from last year are Amber Lynn Costello, 27, originally of Wilmington, N.C. and Maureen Brainard-Barnes, 28, of Norwich, Conn.
The four found last year were discovered by police who were searching for Gilbert, who vanished after she had arranged to meet a client in Oak Beach last May.
A resident has told authorities a woman believed to be Gilbert came to his door around 4:45 a.m. May 1, pleading for help. The man said that when he tried to call police, the woman fled.
Moments later, an unidentified man in a sport utility vehicle drove past the house and said he was looking for the woman, but then took off. Neither the woman nor the man was seen by the neighbor again.
The client Gilbert had arranged to meet was investigated but is not believed to be a suspect in her disappearance.