Disturbing video captured by surveillance cameras shows a home health care aide abusing a 78-year-old Queens stroke victim, slapping his trembling arm and jerking his head by his nose while trying to force-feed him.
The family of Bentsion Murakhovsky, a 115-pound man paralyzed on his left side who has trouble speaking and swallowing food, installed the surveillance cameras after Murakhovsky told them a home health aide provided by Personal-Touch Home Care treated him improperly.
Home Health Care Aide Caught on Tape Abusing Stroke Victim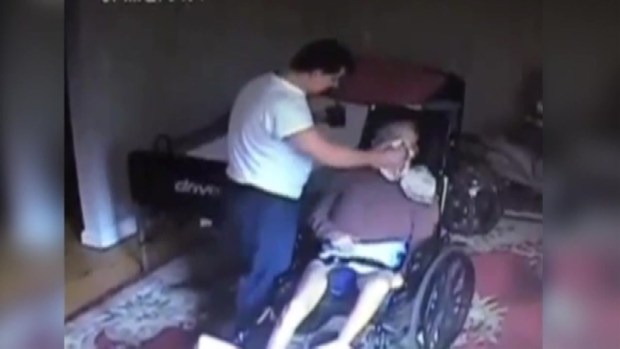 That home health aide was replaced by a second one sent by Personal-Touch Home Care after Murakhovsky's wife and granddaughter complained about the alleged abuse; the surveillance system was installed prior to the start of the new home health aide's employment in the home to ensure no future lapses in care would occur.
Top News Photos: ICE Expedited Deportation, and More
Video captured on surveillance cameras April 8 show the new home health aide abusing Murakhovsky. In one clip, the aide grabs his wrist, slams it into his side and grabs Murakhovsky's nose while pushing a napkin into his face in an effort to force-feed him.
A second clip provided by Murakhovsky's attorney shows the aide twice grab his nose while feeding him and using it to jerk his head back and forth as the patient nervously taps his fingers on his leg.
In another clip captured the same day, Murakhovsky lifts a blanket from his lap to wipe his face and the attendant grabs it, flings it away from the man and slaps his right arm. The 78-year-old is seen trembling as the aide gestures as if yelling at him. The videos have no audio.
The family only checked the surveillance archive after Murakhovsky's wife returned home one day in April to find her husband's face bruised, the family's attorney, Philip Monier III, said. Monier said Murakhovsky's wife said he was unusually withdrawn that day and appeared depressed and frightened. She called her granddaughter; the two of them checked the surveillance cameras and discovered the abuse.
The Murakhovskys called the NYPD. Charges against the home health aide are pending, and the family is suing the New York City branch of Personal-Touch Home Care, which has more than 50 locations in 11 states.
"Mr. Murakhovsky was a prisoner of his own body, defenseless to stop the healthcare worker looming in front of him," Monier said. "You see a fearful, elderly man being terrorized by a home healthcare aide."
"No one should be treated like that," Monier added. "This company is supposed to be sending trained and qualified workers to help elderly disabled people like Mr. Murakhovsky, and they are getting paid a lot of money for sending unqualified workers."
The lawsuit, filed earlier this month in Kings County Supreme Court, seeks unspecified compensatory and punitive damages.
Murakhovsky's granddaughter Gabriel Murakhovsky said he's a proud Russian immigrant who helped raise her and is now virtually helpless.
Top News Photos: ICE Expedited Deportation, and More
"My grandfather was a very strong man and it's bad enough he got sick and he's humiliated now that he can't change or he can't do certain things," she said. "For a person to destroy him like that physically and emotionally, I think that is very reckless."
David Slifkin, CEO of Personal-Touch Home Care, said the allegations were disturbing.
"Each and every one of the thousands of patients we service are treated as part of the Personal-Touch family," Slifkin said. "Even one incident of potential patient abuse is not acceptable. We exercise many precautions to prevent this type of situation from happening."
Slifkin said the company, which draws staff from a pool of about 12,000 paraprofessionals and 3,000 nurses, puts each aide it hires through a criminal background check using fingerprints. References are checked and prior work history is verified. The company said hires are assessed for any signs of inappropriate behavior during on-the-job training, and representatives make random welfare checks at homes where aides are placed.
Slifkin said Personal-Touch is cooperating with police.
-- Rob Schmitt contributed to this report.