Tuesday marks the first time in more than 70 years that both the Republican and Democratic presidential nominees are celebrating Election Day in New York City -- and there are traffic changes across midtown Manhattan to mark the occasion.
Dozens of streets in midtown -- including major thoroughfares such as West 34th Street, 57th Street and Fifth, Sixth and Seventh avenues -- are closed Tuesday as authorities set up perimeters around the buildings where Donald Trump and Hillary Clinton will be spending time on Election Day.
Clinton is expected to spend Tuesday at the Javits Center, while Trump will split time between Trump Tower and the New York Hilton Midtown.
Traffic changes include:
Limited access on 11th Avenue between West 34th and West 40th street beginning on Monday
Intermittent closures on West 34th Street beginning Monday afternoon.
Full closures on 11th Avenue between West 34th and West 40th streets beginning at 6 a.m. Tuesday.
West 34th Street could be subject to a full closure beginning Tuesday morning.
Beginning Tuesday morning, West 53rd and West 54th streets between Sixth and Seventh avenues will be closed to traffic.
Beginning Tuesday morning, West 55th Street will be closed between Fifth and Sixth avenues.
Roadways around Trump Tower (Fifth Avenue between East 55th and East 56th streets) will be closed as long as Trump is in the building on Election Day.
Truck will also be diverted off of several midtown streets beginning at 6 a.m. Tuesday, including Fifth Avenue between 54th and 59th streets, 57th Street between Madison and Sixth avenues, and Sixth Avenue between West 42nd and West 54th streets.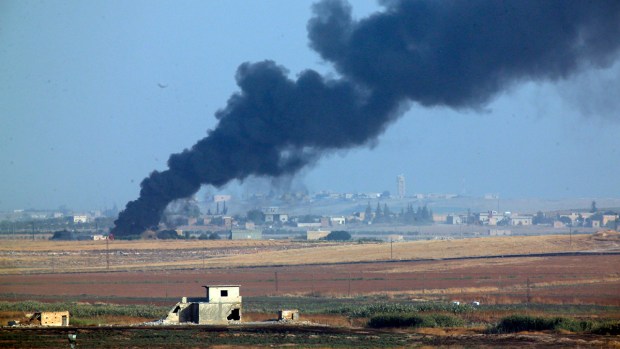 Top News: Turkey Invades Syria, Calif. Power Outage, More
NYPD Commissioner James O'Neill and Mayor de Blasio also announced additional security measures for the election at a news conference Tuesday. Officials said that the police presence assigned to elections will be "by far" the largest in the city's history.
De Blasio said that in addition to focusing on security around the two candidates' parties, NYPD officers will be making sure that "there won't be any voter suppression" at polling places across the city.
Police are assigned to each of the polling precincts around the city's five boroughs. Additional transit cops are patrolling in subway and train stations.
In addition to road closures, alternate side parking rules is suspended across the city. Parking meter regulations remain in effect.
There is also no garbage or recycling pickup on Tuesday, and public schools are closed for students.