Harlem leaders and residents have demanded for years that the statue of Dr. J. Marion Sims, considered the father of modern gynecology, be taken down in Central Park -- and now they say their call has gotten a boost from Charlottesville.
The recent clash over the proposed removal of a monument to Robert E. Lee in Charlottesville has ignited debate over all tributes to the Confederacy, including in New York City. The statue of Sims in Central Park has been criticized for years by defenders of civil rights, who say it honors his medical achievements without mentioning that he experimented on enslaved women.
"Anarcha, Lucy and Betsy -- these women had names," said Council Speaker Melissa Mark-Viverito, who stood with other community leaders Monday to demand the statue be taken down. "He repeatedly performed surgery on black women without anesthesia because, according to him, black women don't feel pain."
"He wasn't a Confederate soldier but... his deeds are just as offensive as the Confederate monuments," said Diane Collier of the East Harlem Communtiy Board.

Calls in New York to Remove Confederate Memorials
State Senator Bill Perkins said the time for action is now.
"He wasn't a Confederate soldier but... his deeds are just as offensive as the Confederate monuments," said Diane Collier of the East Harlem Communtiy Board.

"Thanks to the movement, there are others who have creative ways for this to come down," he said. "I just hope the parks department and other responsible parties get there first."
Mayor de Blasio said Monday that the Sims statue will be examined as a special commission examines all public art for "symbols of hate" in the next three months. He's already announced that a plaque honoring French Nazi sympathizer Philippe Petain in the Canyon of Heroes will be removed.
As for the Sims statue, de Blasio said, "I'm not going to comment on every statue but this is certainly a troubling example."
Some historians, though, point out a difference. Whether it's Sims or Christopher Columbus, where controversial facts about these figures emerged more fully in later years, many argue that taking down statues sets the dangerous precedent of erasing history.
Trump Responds to Confederate Statues Being Torn Down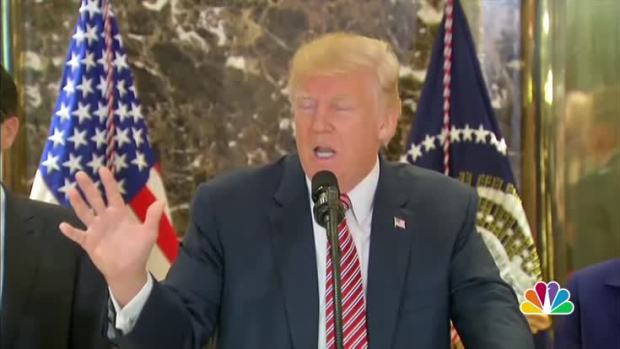 But others contend this new debate pales compared to fresh fears about hate.
"The real issue is the rise in hate since the election," said Evan Bernstein of the Anti-Defamation League. "We've been talking about it for many, many months."
Bernsetin says New Yorkers have spoken with their wallets: the Anti-Defamation League has gotten a 600 percent increase in traffic on their website, and a 1,000-percent increase in monetary donations. The ADL will focus on how to try and confront hate in the months ahead.
Since Charlottesville, plaques honoring Gen. Robert E. Lee have been removed from a church property in Brooklyn; the governor announced the bronze busts of Lee and Stonewall Jackson will be removed from the CUNY Hall of Fame for Great Americans; and people in Brooklyn have been calling for street names at Fort Hamilton to be changed to remove Lee's and Jackson's names.