What to Know
Fire officials were called to the scene on Maiden Lane, a luxury condo tower under construction, shortly after 9 a.m. Thursday

The worker, who was wearing a safety harness, somehow fell from the 29th floor and landed on a scaffold bridge; he died at the scene

A cousin tells News 4 the victim is a father of five from Ecuador who has worked many similar construction jobs in the past
Two construction workers died in separate falls hours apart in Manhattan Thursday, officials said.
The Department of Buildings said it is investigating the accidents in the Financial District and midtown that left a father of five and a 45-year-old man, respectively, dead. The department also confirmed that at one of the two sites, it was the second such death this year.
In the first incident, a veteran construction worker died in a 29-story plunge from a luxury waterfront condo development in the Financial District, authorities and relatives said.
The victim's identity has not been officially released, but a cousin at the scene, Angel Munoz, told News 4 he is Juan Chonillo, a 43-year-old father of five from Ecuador who has worked on many projects similar to the development on Maiden Lane in the past and that he had lost his balance prior to the fall.
Worker Dies in Plunge at Luxury Condo Tower in FiDi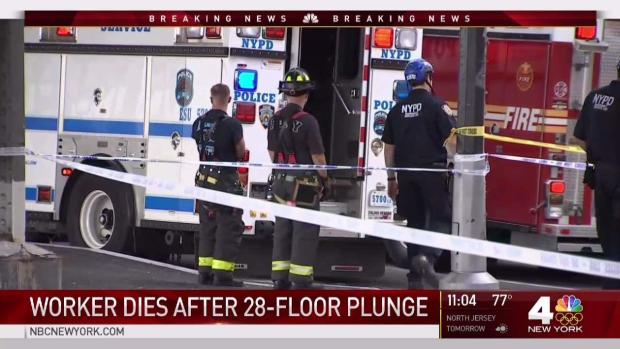 Fire officials said the worker was wearing a harness when he fell from the 29th floor, but the harness wasn't clipped in. He landed on a scaffold bridge above the sidewalk and was pronounced dead at the scene.
A Department of Buildings spokesman said Chonillo and other workers, who were employed by contractor Pizzarotti IBC, were installing molds in which to pour concrete for the 29th floor of the tower at the time of the accident.
The address emergency personnel were called to is 1 Seaport Residences, which, once finished, is expected to be a 60-story building with a "full floor experience" halfway up that offers 360-degree views of Manhattan, according to StreetEasy. The website reports multiple penthouse units are already in contract for more than $7 million apeice.
The Buildings Department website also shows a complaint filed on Tuesday ago over possible unsafe crane operation, but a spokesman said it had nothing to do with Thursday's accident.
Later Thursday afternoon, two workers plunged from a bucket lift from the third floor at 400 W. 33rd St. on Ninth Avenue, according to a Department of Buildings spokesman.
One of the workers, a 45-year-old man, died. Witnesses at the scene said it appeared that they were wearing safety harnesses, but that they weren't secured to the bucket.
It was the second time a worker had fallen to his death at the site this year; another worker died in June.
A spokesman for Tishman Construction, the contractor for the site, said that the two workers fell while a boom was descending.
"We are deeply saddened by this terrible tragedy and we are actively cooperating with all relevant agencies to investigate the matter," a company spokesman said.
The deaths come amid calls for more stringent safety measures. The buildings department said there had been seven construction-related deaths this year, including Thursday morning's fall. In 2016 and 2015, there were 12 deaths each.
The president of the Building and Construction Trades Council of Greater New York, Gary LaBarbera, said construction is "one of the most dangerous industries in New York City and even the best trained workers are not immune to accidents."
"We must end this epidemic and come together as a city to ensure that we do everything in our power to reduce the number of accidents and fatalities for the men and women who are building our skyline," LaBarbera said.
Months ago, the City Council approved a bill that requires a better database of who gets hurt or killed in a fall, but the fate of a more controversial bill requiring construction workers in the city to get safety training and an apprenticeship course is still unknown.