NBC 4 New York sportscaster Bruce Beck is blogging from London as he helps cover the summer Olympics. Check back often as he catches up with local athletes, explores the city and tracks the games.
Got questions for Bruce while he's in London with our local athletes? Leave a comment here or tweet him @BruceBeck4NY.
Get the top Olympic news, including what to watch, results and features on our local athletes at NBC's Olympic Zone.
PHOTOS: London Calling: Bruce Beck's Olympics Gallery
---
Monday, August 13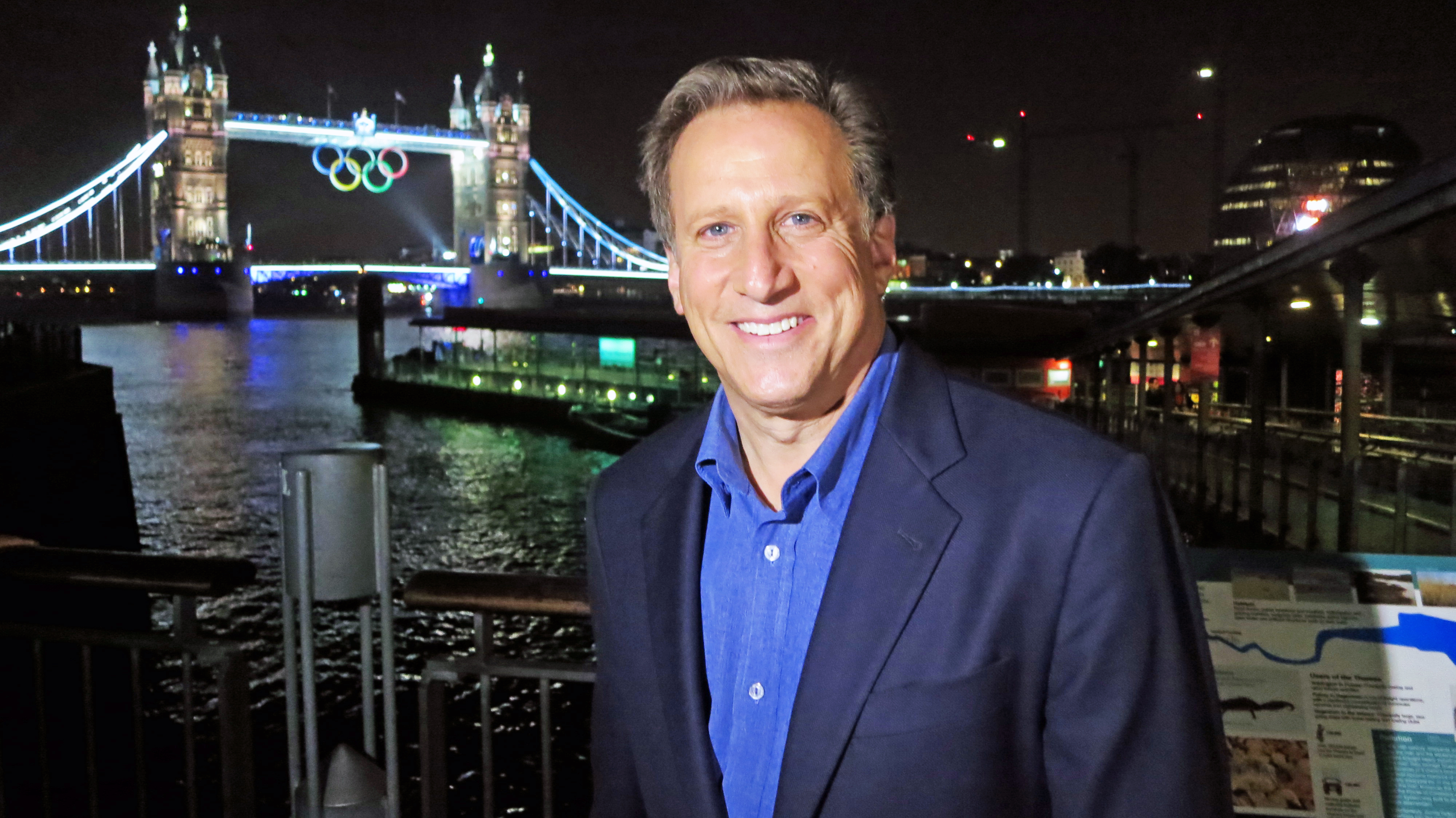 Farewell, London!
Yes, the flame has been extinguished, but the memories will still linger for as long as The Tower Bridge looms over The Thames.
What a city. What an Olympics. What an experience!
In these games, we witnessed history as Michael Phelps became the most decorated Olympian of all time. His record of 18 golds, double more than any other competitor in history -- and 22 overall medals -- are marks that may never broken. (Are you listening, Joe DiMaggio?)
As good as Phelps was in London -- where his medal haul included four golds and two silver medals -- I truly believe these were the Bolt Olympics.
Bolt, the Muhammad Ali of his time in terms of brashness and bravado, put on another show for the ages in London. He competed in three events and earned three gold medals. And he became the first runner in history to successfully defend both the 100 and 200 meters.
Best of all time? Bolt thinks so! "I'm the greatest. Now call me a legend. I've got nothing to left to prove!"
When you talk about team performances in London 2012, the U.S. squads stand out. New Jerseyan Carli Lloyd and the U.S. women's soccer team put on a show, winning a gold before 80,000 people at Wembley.
The U.S. women's gymnastics team dazzled us by bringing home our country's first overall team gold since The Magnificent 7 from the '96 Atlanta games. Also, Gabby Douglas stole our hearts while hitting the high note in the women's all-around.
Our women's basketball team won their fifth consecutive gold medal. The sensational team has won a ridiculous 41 consecutive games in the Olympics.
And our men's basketball team stood at the top of the podium as well. Under Coach K, Kobe, Lebron and the rest of the multimillionaires submerged their egos and played an unselfish brand of basketball that would have made former Knicks coach Red Holtzman proud.
To me, three individual stories stand out from the London Olympics. They exemplify what the largest sporting event in the world are all about. They embody the Olympic creed: "The most important thing in the Olympics Games is not to win but to take part. Just as the most important thing in life is not the triumph but the struggle."
First is Manteo Mitchell, the American who took part in the preliminaries of the men's 4-by-400 meter relay. Despite breaking his leg during his portion of the race, he finished with authority. Unbelievable guts displayed by a runner who now has become a household name.
If you like sportsmanship, look no further than the men's 110-meter hurdles, where 2004 gold medalist Liu Xiang of China crashed and burned. After it was over, Great Britain's Andrew Turner, who had won the race, ran back on to the track to help Xiang get off it. It was a simple, beautiful gesture.
And if you're looking for a true sign of humanity and an amazing personal touch, too, we must recognize the actions of Kirani James of Grenada. James won a semi-final in the 400 meters, while the blade runner Oscar Pistorius finished dead last.
After the race was over, the runners embraced and James asked Pistorius if they could exchange bibs. Classy move by James, who not only saluted the double amputee, but showed us all what the spirit of the Games is all about. I was in Olympic Stadium that night and got goosebumps. I will never forget that heart-warming exchange by the two athletes.
Overall London did a remarkable job. Its historic landmarks served as the perfect backdrop for the Games of the XXX Olympiad. And the engaging soul of the multicultural city was on display each and every day.
The events started punctually. The crowds were enthusiastic. The hospitality was beyond reproach.
My fifth Olympics were grueling. They were comprised of 20-hour days and limited sleep. But the stories were fascinating and the experience was simply awesome.
So, good-bye London, and thanks for a memorable 16 days. Up next: Rio in 2016, or perhaps Sochi for the Winter Olympics in 2014.
But lets talk about that stuff later. For now, my bed is calling and I'm answering. Good night!
---
Sunday, August 12
Bruce has covered a lot of the tri-state athletes competing in the 2012 Olympics, and many of those have a connection to St. John's University. His ties to the school runs deep, and he's written a post on his blog to the University's president, the Rev. Donald J. Harrington, CM, to let him know how far the St. John's tradition has traveled -- from Queens to London and back.
Dear Father Harrington:
As I conclude this 23 day adventure in London, I wanted to share some thoughts with you.
It seems as though everywhere I go; every local athlete I cover; every story I develop - there's a link in some way to your wonderful University.
The hits just keep on coming -- and I'd be remiss if I did not tell you that St. John's "pride" is booming an ocean away.
Let me tell you about some of those magical moments:
There's the story of Phobay Kutu-Akoi, a 2009 St. John's graduate. The fastest 100 meters runner in the history of St. John's University, Phobay was the flag bearer for Liberia, a nation on the southwest coast of Africa.
Who said you can't come home again? As a youngster, Phobay and her family left the embattled country to seek a better life. A series of civil wars made it impossible for her to pursue her dreams.
A few years later, her dreams became a reality when she enrolled at St. John's and the rest as they say -- is history. Phobay set a record in the 100 meters at the Met Championships and finished second in the Big East Championships.
Here in London, Phobay returned to her roots and carried the flag for Liberia at the Opening Ceremony. She did it with a new sense of pride and the same old conviction. She told me, "it would have never happened without St. John's, an institution which shaped her life."
I'm sure by now you've heard about my encounter with Dagmara Wozniak, the fencer from Avenel, New Jersey, who was born in Poland. She came to America in the late 80's when the Polish economy crumbled and her parents sought refuge in the United States. She's a senior at SJU, majoring in Biology.
After suffering a difficult loss in the quarterfinals of the Women's individual Sabre tournament, we shared an emotional moment together that I will never forget it. At first, I tried to console her but later she ended up consoling me. It had everything to do with family, love and the spirit of competition. (Please check out my earlier post on this blog to read more)
From tears to smiles -- to big laughs, with a big guy, Frank Viola. You remember Frank and all his accomplishments in Major League Baseball. He won two huge games in pitching the Twins to a World Series title in 1987 and he captured a Cy Young award with Minnesota in 1988.
But before all of that -- there was St. John's. And who can ever forget how he and John Franco led the Johnnies to the College World Series in 1980.
And of course, we all still talk about that epic game in 1981 when Viola and St. John's squared off against Ron Darling and Yale in what many consider the greatest college baseball game of all time. Darling pitched 11 innings of no-hit ball. Viola threw shutout ball over 11 innings. St. John's won the ballgame 1-0 in the 12th.
But let's get back to Viola in London. At age: 52, he was obviously too old to compete. Instead he traveled across the pond to watch his daughter, Brittany compete in the 10 meter platform in the Olympics. Brittany did nicely as she advanced to the semi-finals of the event. Frank did well as a "Diving Dad" and we had a chance to reminisce about the good old days.
On the Viola story, I used my St. John's connections to track Frank down in London and to reach deep into the archives for old pictures and articles.
Mark Fratto and Dominic Scianna were a huge help. I even solicited the advice of former St. John's Baseball Sports Information Director, Mike "Mex" Carey. He's a Georgetown guy now but I know deep down, he still bleeds red.
You see Father -- at St. John's, it's all about relationships and all about community. I know firsthand. Each Thanksgiving for the past eleven years, The Beck family has been blessed to serve the needy at the St. John's Bread and Life Program in Bedford Stuyvesant, the largest soup kitchen in Brooklyn. To serve 1000 hearty meals alongside the St. John's Men's Basketball team has been a joy. The experience has shaped the lives of my sons.
As you know, my love for St. John's runs deep. As the host of the Lou Carnesecca Showin the 80's at MSG Network, I built a friendship with Louie that is unwavering.
And of course, hosting your major fundraiser each year -- the President's Dinner at the Waldorf Astoria, is a responsibility I take seriously and a labor of love.
So whether it's in New York or London; North America or Europe - the University's presence looms large. And the feelings everyone has for the college come straight from the heart.
Take it from me -- a Jewish kid from New Jersey, who has embraced the Vincentian mission established by St. Vincent de Paul about caring for the needy and the importance of giving back.
Take it from me, a broadcaster, who had the honor to deliver the commencement address to St. John's Staten Island Campus and become a Doctor of Humane Letters in the process.
Take it from me, a guy who knows anything and everything about what this great institution represents and where it stands in the melting pot of the tri-state area. Yes, there's only one thing left to say: "We Are St. John's!"
My Warmest Regards,
Bruce
---
Friday, August 10
The Fab Five -- or the Fierce Five -- of the U.S. women's gymnastics team gave us a moment at the Olympics we will never forget, bringing home the first team gold in 16 years. What a group. What a story.
Now we have another. Team USA did it again: Three straight gold medals for the U.S. women's soccer team.
And instead of five, let's concentrate on four because that's how many "Jerseyans" are on the roster.
Today, I spoke with all of them in London -- a day after they reached the mountaintop; a day after they got revenge from their World Cup loss to Japan; a day after 80,000 fans screamed their lungs out for the best "football" match-up of the Olympic tournament.
Let's start with Carli Lloyd of Delran, who has a flair for the dramatic. In 2008, she scored the only goal in the gold medal game against Brazil in the Beijing Olympics. Here in London, she scored the only two goals for the Americans in the championship game.
She once wondered, "Can I really compete on this level?" But today she told me, "I know I'm good." Rutgers' all-time leading scorer is not so much cocky as she is confident. Let's face it, everyone would want Carli Lloyd on their team.
Then there is Heather O'Reilly of East Brunswick. She won a state title in high school and two national titles at North Carolina. She now owns three gold medals. O'Reilly, who made her national team debut in 2002 in high school, said, "It's amazing to share this accomplishment with the other Jersey girls."
At 24, Tobin Heath is the baby in the group. She followed Heather to North Carolina after starring at Ridge High School in Basking Ridge. One of the team's most skillful players, Heather had a blast today. She rode the double-decker bus into Olympic Park for a Today Show appearance with the team, and then talked to me about "Jersey Pride."
Last but certainly least is Christie Rampone, who I have known for almost 20 years. She's a fierce defender but a gentle mother of two. "The Captain" is the only women's player in U.S. history to own three gold medals and one silver.
Christie believes the team came together at the right time. She says the chemistry is terrific. She knows they saved their best for last.
At 37, Rampone is the oldest player on the team. Before the Olympics, she hinted that this would be her last shot at glory. But today she told me, "I'm not sure about 2016. I might want to play in that one too."
You can blame it on the camaraderie of the team. You can blame it on wanting to enjoy more success. You can blame it on the other Jersey Girls who want her to stick around a little longer to mentor some of the younger kids.
Or you could just blame it on Rio.
Four girls bound together by a single sport. Four girls making history together. One state proud to call them all homegrown.Take it from me, a Livingston native -- the Garden State rocks.
---
Tuesday, August 7
Tears again! No, not me, but Felix Sanchez. And I mean buckets of tears. The New York-born speedster, who represents the Dominican Republic, let all his emotions come flowing out after he captured gold in the men's 400-meter hurdles.
Sanchez, who also won gold in Athens in 2004, lost his grandmother in 2008, just before the Olympics. That's one of the reasons he ran so poorly in Beijing. He could not come to grips with the devastation of having to bury the woman who raised him.
Sanchez promised her before she passed that he would win one more medal in her honor. It took four more years but it all came to be on Monday night at Olympic Stadium. And at age 34, he became the oldest champion ever in the event.
Moments after the race, he reached behind his bib number and flipped out a picture of his late grandmother. And then he was overcome with emotion -- first on the track and then on the medal stand. What an awesome story.
WATCH: Felix Sanchez's Promise
If Jerry Rice is G.O.A.T., what does that make Michael Phelps? On Monday, I had a chance to go one-on-one for four minutes with the most decorated Olympian ever. And yes, he is the G.O.A.T. of the pool. In case you didn't follow me on the acronym -- it stands for Greatest of All Time!
I asked Phelps what we would say to a youngster who wants to be just like him. He said, "Dream big." I like that!
I asked him what his enduring legacy will be. His answer was, "Bob and I wanted to become the greatest of all time. We wanted to do something that nobody else had ever done before. We've been able to do that a couple of times with a couple of things. Looking back at that -- is pretty proud." You see, he even said it: G.O.A.T.
I enjoyed talking to Phelps. We discussed a lot of stuff from his Michigan days as a student. We touched on the football team: Maize and Blue Deli and the whole experience at Ann Arbor. He asked how my son Mikey was handling his recent graduation from UMich! He knows kids don't like to say goodbye to their college experience, let alone saying farewell to that magical place in that busy college town. I really appreciated his sensitivity.
WATCH: Retired Phelps Wants to Cage-Dive
And while we are on the topic of Greatest of All Time -- can we throw Usain Bolt into the equation? Yes, lightning struck twice on Sunday night when the amazing speedster destroyed the best and deepest field in 100-meter history at the Olympics. Bolt setting a new Olympic record was one thing, but the way he left Yohan Blake, Justin Gatlin and Tyson Gay in his wake -- that was incomprehensible. Bolt is the first runner since Carl Lewis to repeat as champion in the 100 at the Olympics.
Even though the Jamaican superstar got off to his usual slow start, he had the race won by 50 meters. And the rest, as they say, is history.
I was in the stadium for that one moment in time. It's one moment I won't forget. After all, it's my favorite event of the Games. When you think of Olympics, you think of The World's Fastest Man. In this case, the man who owns that moniker is on his way to earned another one as well - G.O.A.T.
We are approaching the top of the stretch of the Games of the XXX Olympiad. But the stories keep on coming -- sometimes they come out of nowhere. That's what makes this competition such a trip. 10,500 athletes, 10,500 stories. And these stories come in all shapes and sizes.
---
Saturday, August 4
I can cross one off the bucket list! Yesterday, I visited hallowed Wimbledon.It was one of those moments I will always remember.
The club was founded in 1868 as The All England Croquet Club. The Championships, Wimbledon have been held since 1877. I really don't think much has changed since then. Not that I would know from living through that era, but I was told.
It's majestic. It's charming. It's green and white; and wooden -- and iconic in every way. It's like walking through a time capsule. It's tennis!
The place was packed. It's been the toughest ticket of the Olympics. A far cry from the first tournament at The All England Club. In that one, 200 spectators paid one shilling to watch Spencer Gore win the final. Spencer, who?
I happened to meet up with some friends including NBC Tennis Producer, Steve Mayer and his executive assistant, Rachel Segal. She was my former intern and she just graduated from Michigan with my son, Mike. Go Blue!
She showed me to the press seats. They just happened to be in the first row.
I indulged in some food. I am sorry to say it was not strawberries and cream. It was a sausage roll. Delicious! Perfect for an Olympic diet.
I watched the Men's Doubles Final as the Bryan Brothers captured their career Golden Slam. Mike and Bob bounced Joe-Willie Tsonga and Michael Llodra of France, 6-4, 7-6. They have now won all four majors (11 in all) and an Olympic Gold.

Afterwards, my buddy Justin Gimelstob handled the court-side interviews for NBC. Of course, the effervescent Gimelstob posed for a picture with me first. Hey, we are both Jersey Boys.
I cruised the grounds to let history soak through my veins. You could smell it. You could feel it. You could taste it. I could taste that sausage roll coming back up. Afterwards, I visited the television trucks to say hello to the crew.
And what would a trip to Wimbledon be like without taking the famous London Tube - their answer to the New York subway. I can't remember the last time I took a photo with the train tracks behind me. But I did. After all this is the Beck Blog at the London Olympics.
I've been to Lambeau Field. That was amazing. I've been to Wrigley Field. That was historic. I've been to Fenway Park. Let's not go there. I hate the Red Sox! And now, I've visited Wimbledon - the idyllic venue of the oldest tennis tournament in the world.
It was a remarkable day. And now, I can cross another one off my bucket list. In some ways, I wish it was still on my list.
____________________________________________________________________________________
Friday, August 3
Greetings from London, where the British Olympians celebrate in outrageous ways. On Thursday night (or more accurately, Friday morning), Bradley Wiggins, the most decorated British Olympian of all time, got "blind drunk."
Yes, the 7-time medal winner had a very public binge, hooting it up near St. Paul's Cathedral and then posting pictures on Twitter.
British Olympic Chief Colin Moynihan said Wiggins was "thoroughly entitled to have a fantastic party." What a quote! I can just imagine my general manager Michael Jack saying that after a "Beck Binge." (Don't worry MJ! I have no time for sleep, let alone time for beers!)
Beware of the London weather! Up until now, we have been extremely lucky. The weather has been tremendous, considering it rained for two weeks straight before we got here. But on Friday, the heavens opened up and unfortunately, there wasn't an umbrella or shelter in sight.
At the time, I was meeting the interns from my alma mater Ithaca College. I went out with a great bunch of kids to the best photo location in Olympic Park. Unfortunately, it has no cover, so after the group picture, I got so drenched that I had to go back to the hotel and change my clothes and let the water out of my sneakers. How does this stuff happen to me, anyway?
I caught up with New York City's Justin Gatlin, the gold medal winner in the 2004 Athens' 100-meter race. He's coming off a four-year suspension for taking a banned substance, and the time period included the Beijing Olympics. He really wants redemption, and he says he wants to move forward.
Gatlin told me when he was a kid growing up in Brooklyn's Sheepshead Bay, he used to jump over fire hydrants. It wasn't an Olympic sport but it did get his juices flowing. So did chasing his mother's car down the street and trying to out-run her.
At the Aquatics Centre, I grabbed Rebecca Soni and Cullen Jones after their races on Thursday and Friday. Soni was elated. She became the first Beijing gold-medal winning female swimmer to repeat in London.
Soni is an advertiser's delight. She's old-school industrious and wholesome, and she has a great smile. Endorsements are already coming in. That makes total sense because Soni is "smashing." And now, the fastest growing better burger restaurant in the nation has rewarded Rebecca by giving her a lifetime supply of Smashburgers.
Cullen Jones, on the other hand, was disappointed after grabbing the silver in the 50-meter freestyle Friday. He told me he's a perfectionist and he really wanted to hit the high note in honor of his dad, who died in 2000.
I ran into Tom Brokaw in the International Broadcast Center. And guess who paid me a visit? Brian Williams, the host of NBC Nightly News. We discussed the new spoiler designation and much more. Both Tom and Brian are total gentlemen.
Finally, here's a good nugget: The awards at the Olympics in Paris in 1900 were quite different than those of today. The first place finishers got paintings, and the runner-up in the pole vault event was handed an umbrella. You can't make this stuff up.
That's it for now. I have to get back to dodging raindrops and chasing the "world's fastest man!"
---
Wednesday, August 1
Another Olympics, another breakdown. Not an emotional breakdown; just a show of emotion.
Flashback to 2004 in Athens, Greece. It was my second Olympics working as a broadcaster. It was late August and I was finishing my live shot on "Today in New York" when I decided to send my oldest son good wishes on the air.
"I just want to wish Jon Beck the best of luck," I said. "He's my first son and today, he's headed to college. Jon, I love you. I'll miss you. You'll do great!"
When I delivered that last line, I took a step to my left and hugged a guy who I had just met just two weeks earlier. He was from the NBC affiliate in Columbus, Ohio. I cried my eyes out. Here I was working in Athens, Greece, the cradle of western civilization, 3,500 miles from home -- and it hit me hard. I was missing one of the signature moments in a dad's life.
Flash ahead four years to the Beijing Olympics. This time instead of Jon going off to Ithaca College (he later transferred to Boston University), it was my youngest son Mikey on his way to Michigan. It was another trip for my wife JJ to handle on her own. Believe me, she is a warrior -- but I always feel guilty that the responsibility falls on her strong shoulders.
Ironically, on the day I ventured to the Great Wall of China, my "baby" was headed to Ann Arbor. Before I boarded the minivan and departed for one of the Eight Wonders of the World, I saw my good friend Vai Sikahema, the lead anchor at WCAU-TV in Philly.
Vai was known as the Tongan Terror in the NFL and was a two-time Pro Bowler. But don't let his exterior fool you. He's got a heart of gold and he's as emotional as I am. He knew what was going on, so he hugged me. And that's when I broke down and cried like a baby. I remember his beautiful words that day: "Bubba, you're more of a man than I ever thought because you're not afraid to show your true emotions."
Now jump to yesterday, July 31, 2012. And wouldn't you know it, two big events were unfolding on the same day. Jon was switching New York City apartments and moving in for the first time with his girlfriend Jordana. Mike was moving into Manhattan for the first time to get ready for his first year at Cardozo Law School.
I got a note from my wife on both how well and how poorly the 14-hour move-in progressed. I was sad that I was missing another major life experience, but I didn't cry.
That is, not until today.
It happenedwhen I was interviewing Dagmara Wozniak, a sabre fencer from Avenel, New Jersey. She suffered a devastating 15-13 loss in the quarterfinals to the reigning world champion Sophia Velikaia.
After the match, Dagmara cried openly. So I hung around the interview area (called the Mixed Zone) waiting for her to emerge from the locker room. About an hour later, she accepted the request I'd made with her press officer to talk about the match and her Olympic experience.
She handled herself well. Her comportment was good. She had bloodshot eyes and looked like she was on the brink of crying, but she held back the tears.
After the interview, we talked about the match and then about the emotions she was feeling. She asked me if I'd ever gotten emotional when covering the Olympics, the largest sporting event in the world.
I told her my stories. Moments later, we both starting crying uncontrollably. I thought I was going to have to hold her hand when the interview began. Instead, she ended up holding me in her arms. What a defining moment in London -- an athlete and a sportscaster bound by heartfelt emotion.
I feel better now. I know I got my one good cry out of my system. You know, I really like covering the Olympic Games but today more than ever I realized how much I love my family -- especially when I'm an ocean away.
---
Tuesday, July 31
I can't play golf in London. I just have no time to tee it up. But I can take a mulligan or two, while I'm here.
So let me take this opportunity to say I am not marksman Kim Rhode -- and perfection has eluded me all my life.
Right off the bat, I want to apologize to Kellogg's. We all know that Kellogg's Frosted Flakes are "Gr-r-eat!" Team Kellogg's at the Olympics includes star athletes such as Rebecca Soni of Freehold, New Jersey. But when I previewed Rebecca's 100 Meter Breaststroke Final yesterday on Today In New York, I said Soni was on the cover of a Wheaties cereal box. Wrong!
Wheaties is a cereal that is made by General Mills. Comparing the two companies is akin to comparing Michigan to Ohio State or USC to UCLA -- or even Harvard versus Yale.
Sorry guys! I've been concentrating on synchronized swimming and Badminton and realize that I made a "bad" mistake. I will make it up to you by eating Coco Pops for the next 13 days.
Speaking of a faux pas, the American women compete tonight in the Team Gymnastics competition. Earlier today, I said Jordyn Wieberwas out of the event. Wrong again!
The 17 year-old sensation failed to qualify for the finals of the All Arounds but she will still compete in the Team Final. She will also shoot for individual gold on several different apparatus.
Enough for my double bogeys -- let's move on! And with Rebecca Soni, it's not just about cereal, it's about medals. On Monday, she captured silver for the second straight Olympics in the 100 meter breaststroke.
She finished the race with a vengeance, but needed five more meters to hit the wall first.
She won't have the same problem in the 200 meter breaststoke. She's the defending gold medalist in that event and I expect her to repeat. She sounded confident about the 200 when we talked yesterday at the Aquatics Centre.
The Queen took center stage at the Opening Ceremony. But yesterday, I caught up with "The King," Lebron James. The Miami Heat and Team USA star hoopster said, "it's the name on the front of the uniform, not the name on the back, that counts." That's the attitude Coach K's troops have displayed thus far in this tournament.
Lebron had 8 assists and took only 6 shots in the U-S victory over France. His unselfishness is contagious. Everyone on this team would rather get an assist than score on an alley-oop. Watch for my feature on Team USA's dynamite chemistry on Olympic Zone with David Ushery, Tuesday night at 7:30 pm on NBC 4.
Of all the interviews I have conducted in London, none rival the one I did with Holley Mangold. The sister of Jets star center Nick Mangold is a 350 pound weightlifter. She's also a 350-pound character.
I have to share some of her quips with you: "going up the stairs, I run out of breath."
"I don't look like an athlete. I trip walking across the floor."
"You don't go to the Olympics saying I really want to finish 8th."
Sitting on Holley's lap for a photo, I felt like a kid on Santa's lap.
But Holley -- all I want for Christmas is for you to win a medal. I'll remember this feature for a while. As Holley says, "nobody remembers the skinny girl's name."
Well that's it for the Beck Blog. I have to go find a fact checker. See you on TV or right back here real soon. Remember life is about the journey -- not just about the results.
______________________________________________________________________________
Sunday, July 29
Sorry, folks - been running around London, chasing our local athletes. Eating is not a priority and sleeping is out of the question. But this is what it's all about - a wonderful and exhausting marathon!
Speaking of the Olympic Marathon, that event is on the final day of competition. I'll be rooting hard for my buddy Meb Keflezighi, who won silver in Athens in 2004.
Let's shout together for Lia Neal. The 17-year-old Brooklyn native won a bronze medal Saturday night as part of the women's 4 X 100 Freestyle Relay Team.
Neal, who is a Swim for the Future Scholarship recipient at Asphalt Green in Manhattan, met the "future" early and found out it's nothing to fear.
I interviewed her after she hit the medal stand at the Aquatics Centre in Olympic Park and I could not help but smile with her.
What a showing by only the second African-American woman in history to qualify for the U.S. team.
Hey, I made it over to men's basketball practice on Saturday afternoon. And what I found among the multi-million dollar stars were the following things: humility, unselfishness and class.
Say what? Yes, believe it or not this team embodies everything that is right about the game Dr. James Naismith invented in the Springfield YMCA in 1891. Give credit to the Chairman of USA Basketball, Jerry Colangelo and Head Coach Mike Krzyzewski, for setting the tone.
I asked Carmelo Anthony and Tyson Chandler if they can bring that same winning attitude back to New York for the Knicks -- and the both said emphatically, "that's the whole purpose and the plan."
So superstar Ryan Lochte beat Michael Phelps in round 1 of their epic duel. But remember there's a rematch on the horizon. Don't count out the old guard yet. Michael Phelps is very proud. Their next head-to-head encounter is in the 200-meter individual medley. Phelps edged Lochte in the U.S. Olympic Trials. I think he does it again here in London on Thursday night.
By the way, Lochte who will be 28 next week, is actually older than Phelps.
Finally, I have to give props to my cameraman, Eddie Alonzo who I have worked like a mule here in London. He has been amazing in every way. And I had to laugh last night when his six year old son, Ryan called him to say hello.
Here's Ryan's quote - one for the ages as I like to say: "Dad, you can't be that tired.
How hard is it to take pictures all day?"
See you all on the airwaves. By the way, I start live on Today in New York on Monday morning with the dynamic team of Darlene, Michael, Chris and Lauren.

---
Thursday, July 25
It's always great to start your day with Today -- as in The Today Show! That's where it all began for yours truly on Thursday, under spectacular skies in London.
The setting for Matt, Savannah, Al and Natalie was the Tower of London, home of the UK's "crown jewels." Yes, I know my wife would kill to grab just a few of them.
My focus was on the gymnast from New York City, John Orozco. The 19-year-old sensation has wonderful child-like enthusiasm -- although he's a "man" when he gets in heated competition. The 2012 U.S. National Champion in the All-Arounds is gunning for a medal here in London -- or maybe two.
I love the fact his mom used to drive him 20 miles everyday from Da' Bronx (similar to Da' Bears) to Chappaqua to hit the floor for practice. His entire family has been instrumental in John's success and it's great that they will all be here in England to cheer him on. Rightfully so. John is an awesome kid -- and he's a dead ringer for Ahmad Bradshaw of the New York Giants!
Just because the truth lives here, I've got to come clean. I took a wicked spill at The Today Show. Yes, this old f-rt (it rhymes with smart) tripped over a giant light stand and injured his knee, groin, hamstring and shoulder. What an idiot. Ice helped soften the blow but I have already been scratched from the Decathlon. And my ego is bruised as well.
My cameraman Eddie said to me as I was lying on the ground, "Let it be, Bruce for a few minutes." Say what?
However, that does lead me nicely to Friday's Opening Ceremony. Tonight as I headed to my live location for News 4 New York at 5, I heard Sir Paul McCartney singing "Let It Be." It was unbelievable. I had goosebumps everywhere. Paul performing in England? You can't be serious? And yes, every song he sang in the rehearsal in Olympic Stadium was brilliant.
I also interviewed shooter Matt Emmons from Brown Mills, New Jersey. He's the guy who shot a bull's-eye in 2004 -- but at the wrong target. He owns a gold and a silver medal, but the question is "What might have been?" He basically lost two medals on two shots. He was that close to owning four career Olympic medals.
Matt is refreshing. I like the honesty he displays. And he's looking forward to adding some hardware in London.
By the way, Matt has looked cancer in the face and beat it. His story is a powerful one. We will share it with you on NBC 4 in the days ahead.
On Friday, please catch my story at 5 on Phobay Kutu-Akoi. She's the St. John's graduate who is the flag bearer for Liberia. It's an emotional and energizing story.
Late night here in London, as usual -- so it's time to turn in. Got to get ready for the fireworks tomorrow -- and some real rock 'n roll.
Hey, where's my ice?
The Thames:

Tower Bridge:

---
Wednesday, July 24
I started my day with Citi at The USA House. Their "Every Step Of The Way" program includes 13 athletes. Cullen Jones leads the way. He's my buddy. He hails from Irvington, NJ, by way of the Bronx. I'm a Livingston, NJ guy.
What a guy. In the pool, he flies like a butterfly -- but blazes in the freestyle events. He is gunning for gold again. The 50-meter and 100-meter freestyle man learned to swim after almost drowning as a youth. Now he's giving back to the community and teaching minorities how to swim in USA Swimming's "Make A Splash" initiative.
Go, Cullen, go! Sorry guys, it's OK to root for a club when Team USA is your team of choice.
Next stop today -- a visit with Team USA's fencers. I missed the press conference but with the help of Pied Piper Tim Morehouse, I got the group into my own private room at the Main Press Center. This Olympic team is loaded with New Yorkers.
I loved hanging with the brainiacs of the Olympics. These men and women all go to top schools including Princeton, Columbia and Stanford. Look for a piece coming soon on NBC 4 on these academic "geeks." I say that lovingly. Oh, and speaking of lovely -- I enjoyed hanging with Nzingha Prescod and Nicole Ross.
Finally, I met the flag bearer for what will be Liberia's Olympic delegation during the Opening Ceremony. She's a 2009 St. John's graduate and is a 100-meter specialist on the track. Even with her blazing speed, I figured out a way to corral Phobay Kutu-Akoi.
She is dynamite in every way. She grew up in a country where civil wars were commonplace. Embattled as a youngster, she was forced to leave her homeland. Now 13 years later, she gets a distinguished honor in London. What a tangled web!
Phobay said her Liberian roots have shaped the athlete and person she has become.
Time for a tidbit or two on Liberia: Its delegation includes more officials than athletes and the Republic is just slightly larger than the state of Tennessee.
Final nugget
Went to do a stand-up tonight by the Tower Bridge, where the magnificent Olympic Rings hang from a steel girder. Unfortunately, the rings were undergoing maintenance. So my beautiful shot at 11 on Wednesday night was missing something. And I'm missing something right now -- sleep!
Good night, all! Let's meet again tomorrow - web style, of course. No jackets or ties required.
---
Tuesday, July 23
Visited Olympic Park and witnessed the marvelous transformation from contaminated land in East London to a spectacular 250-acre parkland with trees and wetland plants.
Also in the Park is Olympic Stadium, Aquatics Centre, Basketball Arena, Hockey Centre, Handball Arena, Velodrome and more.
Controversy in Olympic Park surrounds The Orbit, the tallest structure in Britain. The 115-meter skyscraper is an observation tower but it will cost fans money to "observe." Plus it's expected to close after the games -- and not re-open until 2014.
Also today, we got the skinny on Team USA's Processing Center. That's where the athletes check in and get their gear. Can I say "swag" on the web? Serena and Venus Williams were there, as were Andy Roddick and Kerri Walsh. All in all, 95,000 items (all free of charge) will be distributed to USA's best. Each athlete gets about 100 items or four bags worth of stuff. Hey, why am I wasting my time as a broadcaster? I have to hone my beach volleyball skills!
The Final Word

I ran into my old buddy Michelle Beadle today, who will be working her first Olympics on NBC. She'll be hosting shows for NBC Sports Network and reporting for Access Hollywood. I shouldn't have taken a picture with her. She puts all of us "old men" to shame. Good luck, Michelle. Knock 'em dead!
Wednesday
En garde! I go toe to toe with the "geeks" of the game -- the brilliant fencers of Team USA. They're a team filled with New Yorkers.
Plus, we'll catch up with swimmer, Cullen Jones. He's the pride of Irvington, New Jersey and his "Make A Splash" charity is "making" a difference in the lives of youngsters!