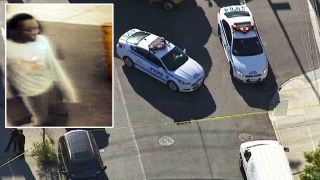 Police have released the man they initially arrested in the shooting of a 12-year-old Brooklyn boy who was hit in the leg as he walked home from school Monday afternoon, saying there are no charges against the man.
The boy was shot in on Lott Avenue in Brownsville shortly after 4 p.m., police said.
He was taken to Kings County Hospital, where he was treated and released later Monday night.
Authorities said they believed the boy got caught in the crossfire between two people shooting at each other. They had been looking for the two people and released a photo of one earlier this week (above).
Police said Wednesday they had arrested a 22-year-old Brooklyn man on felony assault and reckless endangerment charges in connection with the shooting, but later said the arrest was "voided."
There was no evidence the man committed the crime, police said.