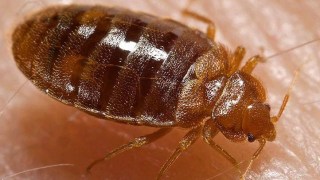 The city fumigated three subway trains after bedbugs were spotted on them over the weekend, the MTA says.
All the bedbugs were found on the N line.
Two trains were taken out of service Sunday after the bugs were found on some cars. A third N train was fumigated Tuesday.
MTA spokesman Kevin Ortiz wouldn't say where on the trains the bugs were found, nor would he say at which point in the line they were discovered.
The Daily News reports some of the critters were spotted in seat cushions in train cabs used by conductors and motormen.
Ortiz says this isn't the first time the MTA has had to deal with bedbugs, though he said there have been no recent cases. Ortiz didn't say when the last reported bedbug sighting on a subway train was.
Published at 9:08 AM EDT on Aug 6, 2014 | Updated at 1:34 PM EDT on Aug 6, 2014