As the city slowly crawls back to normal following Tuesday's fierce nor'easter, straphangers can expect lingering problems during their commutes.
See the latest transit updates after the storm here.
The shovels were out on the platforms of New York subway stations Wednesday, but not fast enough to keep up with the return of commuting crowds.
Though MTA service above ground returned by Tuesday evening, the agency reported delays on at least nine subway lines Wednesday morning, including the B, D, F, 7, and Q, while customers griped about packed platforms at several stations along the L line throughout Brooklyn.
Q train fun right now @Gothamist#mta#dekalbpic.twitter.com/Eu5hb0HyRq

— Goatfighter (@fibosequence) March 15, 2017
Keep raising fares @mta. You're doing a great job! pic.twitter.com/bQzTYNgfwF

— Jonah Bayer (@mynameisjonah) March 15, 2017
Getting into subway stations was hazardous for commuters and train engineers as the transit agency dealt with snow removal issues. Ice glazed the stairs and train yards, while piles of snow hardened into ice on platforms hours after the storm began to make its way out.
At the outdoor stations along the 7 subway line in Queens, riders waited on snow-covered platforms and delicately navigated ice-covered steps, 24 hours after the snow stopped.
"It's pretty bad," said Eduardo Garcia of Jackson Heights. "Anyone could just slip. There's people that could be harmed because of this, it's dangerous."
this is UNBELIEVABLE!!!! @NYCTSubway@CBSNewYork@ABC7NY@NBCNewYork@PIX11News#MTApic.twitter.com/uQq33RzGnI

— - (@marchyy_) March 15, 2017
The MTA said they are working to clear all subway stations as fast as possible.
"Our snow fighting crews have been working non-stop since the onset of the storm to clear snow and ice from stairs and platforms," an MTA spokesman told NBC New York in a statement. "We urge customers to use caution at stations given the weather and we thank them for their patience as we work to clear every station as quickly as possible."
Many riders aren't satisfied with the transit agency's response. More than 110 of the 472 stations throughout the city hadn't been cleared Wednesday morning, including some underground stations where stairwells needed cleaning.
"I think it's horrible and dangerous at the same time," said Maria Idarrago of Corona. "They're just waiting for an accident to happen."
NYers Navigate Monster Piles of Muck, Slush in Midtown
Meanwhile, riders along the N and R lines should be aware that southbound N trains are running local from 36th Street in Brooklyn to 59th Street in Manhattan due to New York City Transit's cold weather plan. Expect delays in R train service.
Similarly, northbound E trains are running local from Forest Hills-71st Avenue to Jamaica Center-Parsons/Archer in Queens due to the agency's cold weather plans. Southbound A trains are running local from 168th Street to 145th Street, and C train service is delayed.
As an alternative, customers should take the N and W trains to and from Queens to Queensboro Plaza or the E, F, M or R trains to and from Jackson Heights-Roosevelt Avenue.
Grading The Nor'Easter Response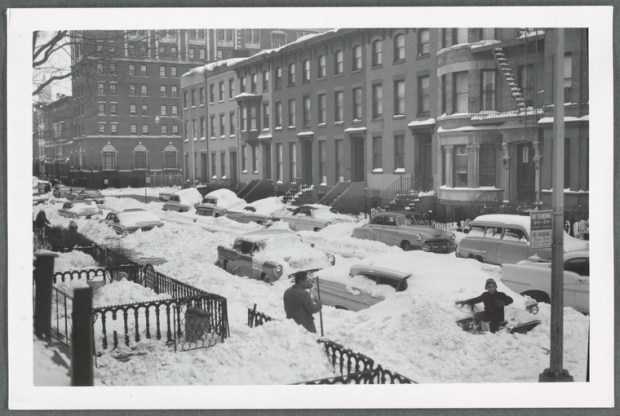 Historic Images of NYC Snowstorms
Published at 2:17 PM EDT on Mar 15, 2017 | Updated at 8:25 PM EDT on Mar 15, 2017