New Yorkers were treated to a picture of a very pregnant President Donald Trump carrying the baby of Vladimir Putin Tuesday night.
The interesting image, which shows the Russian leader caressing him and kissing his shoulder, decorated the side of a building on 14th Street and Eighth avenue and a second building on North 6th Street and Wythe Avenue in Brooklyn.
Make #valentinesday great again. Come hang on 14th and 8th if you're in NYC. Encore at Wythe and North 6th @ 8:30. #lovethroughhatepic.twitter.com/ZnN9Zs4MX1

— Hater (@LoveThroughHate) February 14, 2017
Where Brooklyn at? #LOVETHROUGHHATEpic.twitter.com/SFQuFPROLe

— Hater (@LoveThroughHate) February 15, 2017
Hater displayed the photo to promote their app using the hashtag #LoveThroughHate. The New York City-based dating app helps users find love through mutual dislikes.
"I'm scared of what's in that belly," said reddit user WikiThreadThrowaway. Another user called the photo "one of the greatest love stories of the 21st century."
Onlookers got a few laughs as they walked through Chelsea and Williamsburg on Valentine's Day.
Does Valentine's Day mark the beggining of the end of the Trump/Putin love affair? Nothing says I love you like impeachment!

— Mickey NYC (@mickeypg) February 15, 2017
Hahaha. Wow, this is being projected on 9th avenue at the moment #nyc#trump#putin#lovepic.twitter.com/ruylfEhmEq

— SeriouslyUS? (@USseriously) February 15, 2017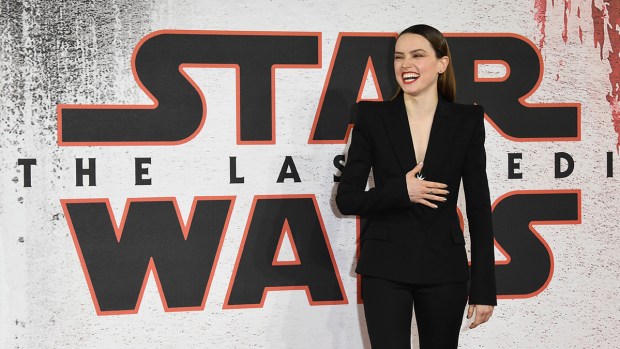 Top Celeb Pics: 'Star Wars: The Last Jedi' Photo Call
Published at 8:43 AM EST on Feb 15, 2017 | Updated at 12:44 PM EST on Feb 15, 2017