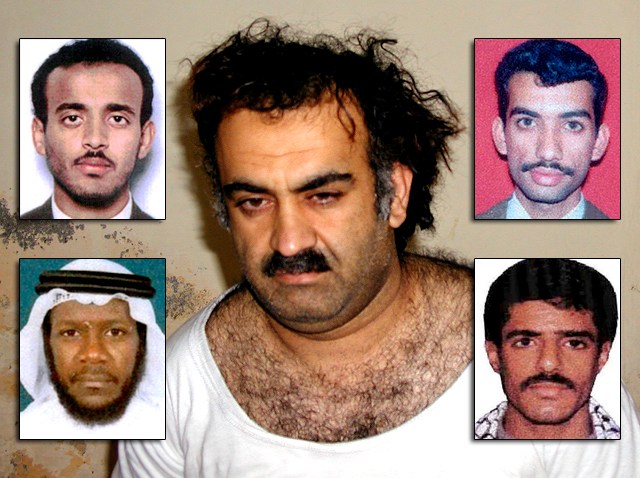 Democracy does work.
After a growing number of regular people and powerful politicians alike had begged to move the 9/11 terror trials, Obama administration officials confirmed to NBC News that they will not hold the trials in New York City.
No official announcement was expected Friday night, but Stewart Air National Guard Base and the Federal Correctional Institution in Otisville are among upstate locations that could be considered.
Earlier Friday, the news that the White House and Justice department were considering moving the trials had many New Yorkers elated.
"We suggested a number of sites for the attorney general to look at ... what we are saying to him is have a federal court trial, but have it at a military installation in the Southern District of New York, Julie Menin, Chairwoman of Lower Manhattan's Community Board 1, told NBCNewYork.com.
"It would have been disastrous," Menin said of holding the trials in New York. "The NYPD estimated that there would be 2,000 checkpoints at the cost of $200 million a year. It made no sense whatsoever. It would have shut down the community."

New York Gov. David Paterson, speaking at an event to generate more help for Haitians in New York, said Friday he was "elated that our concerns are being considered by the president and the federal government.''
Police Commissioner Raymond Kelly's doomsday analysis of the cost and multi-tiered security plan required to maintain such a high-profile trial may also have catalyzed reconsideration of the location. Kelly's rousing speech at a convention of more than one hundred business leaders earlier this month gave voice to the rumble of opposition that has grown steadily louder in recent weeks.

"I think it's a good decision for the city," Kelly said Friday after learning of Washington's reconsideration. "It gives us some breathing room in the police department. It would have taken several hundred officers every day in that area."

Asked if having the trial in Manhattan increased the terror threat to New York city, Kelly said "in my judgment yes."

The chorus to move the trial had steadily gotten louder.

Mayor Michael Bloomberg announced this week he changed his mind regarding the trial being held in New York City, which he initially supported. He suggested the trials be held at a military base as a safer, less-disruptive alternative to the original location.
"There are places that would be less expensive for the taxpayers and less disruptive for New York City," Bloomberg, citing costs that could escalate upwards of $1 billion over three or four years, said this week.

On Thursday, the mayor called Washington and personally urged U.S. Attorney General Eric Holder to consider moving the trials elsewhere, which may have expedited the developments late last night.

Eight local politicians joined the long list Thursday of those opposed to the government's plan to hold the trials in lower Manhattan, just steps away from Ground Zero.
Assembly Speaker Sheldon Silver, Public Advocate Bill de Blasio, Manhattan Borough President Scott Stringer, Council Speaker Christine Quinn and other local elected officials signed their names to a letter asking Holder to consider alternate locations for the trial of Khalid Sheikh Mohammed and four other accused terrorists.

Bloomberg said on his weekly radio show Friday that he had spoken with several "high level'' people in the administration and made his point that the trial would be expensive and disruptive to lower Manhattan. He said the administration understands and is "trying to do something.''

"I said it would be phenomenally expensive and it is very disruptive to people who live in the area and businesses in the area,'' Bloomberg said of his conversations with administration officials. "So the economic impact is detrimental, and nobody knows how big. And it would be better to do it elsewhere if they could find a venue.''

Embracing Bloomberg's position, Indiana Republican Rep. Mike Pence said Friday it is "a terrible idea to return the mastermind of 9/11 to the scene of the worst terrorist attack in U.S. history.''
Pence, a leading House Republican, said he believes some congressional Democrats will join Republicans in seeking legislation to block funding for security-related costs if the administration doesn't back down.

"Unless the administration comes to its senses and abandons this absurd idea, the Republicans, and I suspect some Democrats, will abandon funding," he said.

The federal government had said it would pay back New York City for costs incurred in security maintenance during the trial, but they won't compensate business owners in lower Manhattan. Those who own shops and outlets downtown fear the prospects of lost revenue they'd likely suffer due to new traffic patterns, heightened security and a raised threat level that would accompany holding the trial of the accused terrorists a few blocks away from Ground Zero.

Regardless of where the trials are held, the decision to hold them in civilian court will not be amended, authorities say.

White House spokesman Bill Burton said Thursday that the president is committed to seeing Mohammed and his alleged accomplices brought to justice, and believes that can be done successfully and securely in a federal court.

"Currently our federal jails hold hundreds of convicted terrorists, and the president's opinion has not changed on that,'' Burton said.