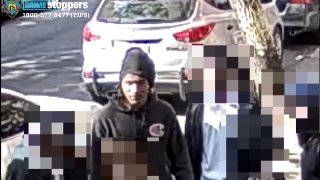 An 80-year-old man took a bullet to the buttocks as he walked with family in the Bronx, authorities said Tuesday.
The man was walking near East 174th Street and Vyse Avenue shortly before 5 p.m. Monday when gunfire erupted. The victim was hit once; he was taken to a hospital and is expected to be OK. The intended target wasn't known.
No other injuries were reported. The suspect fled the scene.
Police released a surveillance image of the suspect (above). Anyone with information about him is asked to call Crime Stoppers at 1-800-577-TIPS.
Copyright NBC New York